Fans React To The RuPaul's Drag Race All Stars Season 5 Cast
Find out what fans have to say about the return of Ongina, Shea Coulee, Miz Cracker, Derrick Barry, and more!
Ashley Hoover Baker May 11, 2020 4:56pm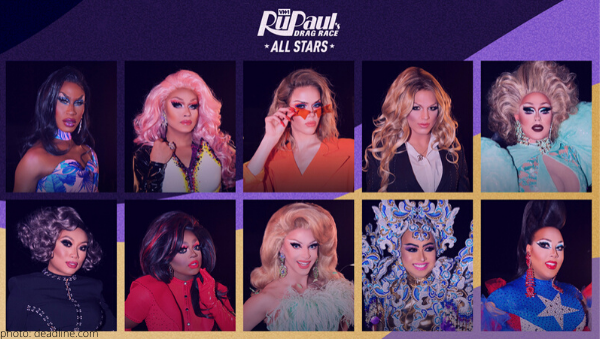 Hey Squirrel Friends!
After the Ru-velation that many fan favorites are returning for the 5th installment of RuPaul's Drag Race All Stars, it's time to celebrate (and throw a little shade) the dragtestants taking another shot at becoming America's Next Drag Superstar.
The season 5 All Stars:
In case you missed it, returning for RPDRAS season 5 are season 1's Ongina, Jujubee from season 2, season 3's Alexis Mateo, Mariah Balenciaga, and India Ferrah, Derrick Barry from season 8, season 9's Shea Couleé, and season 10's Miz Cracker, Blair St. Clair, and Mayhem Miller.
Yooooo #DragRace Allstars Season 5 cast is ICONIC AS FUCK

— reality tv whore (@tv_and_tea) May 8, 2020
Ongina:
Fans were consistently excited that the OG queen to get robbed of their season was returning…finally.
Jujubee:
"I had read who was on this season a while ago but I still SCREAMED WITH JOY when I saw Jujubee," noted a Facebook group user. Another added, "Jujubee is one of my all time favvvsssss."
Alexis Matteo:
BAM! The Puerto Rican Diva is returning and I, personally, couldn't be happier. A like-minded Facebook user wrote, "I love Alexis Matteo. I'm happy to see her back
."
"Alexis Matteo, she stands on her own, is beautiful and is fucking gorgeous!"
Mariah Balenciaga:
Someone call an ambulance, because this Twitter user needs medical attention from the news of the Emanicpation of Mimi. "Mariah Balenciaga on All Stars 5 oh my god i am having a stroke. Crown her already pls."
India Ferrah:
"OMG miss India Ferrah really SERVED", wrote a Twitter user. Another yelled, "DID I NOT TWEET THAT I WANTED INDIA FERRAH ON ALL STARS A FEW WEEKS AGO OMFG THE FUCKING WAY I MANIFESTED THIS I WAS THINKING ABOUT HOW I WANTED HALF THESE GIRLS ON ALL STARS LITERALLY YESTERDAY."
Derrick Barry:
RPDR fans are divided over Derrick. Those of us who stan Britney Spears, love the amazing impression Derrick delivers. Unfortunately for Spearleaders, not everyone wants the former performer from Frank Marino's Divas Las Vegas star to give another "Piece of Me." The Las Vegas resident took a gamble by entering the competition in Britney Spears drag, especially considering Derrick wants to get out of the Britney bubble, bitch.
'Sometimes' (pun intended) the internet can be way harsh, Tai. "I'm excited for almost everyone. But Derrick? "I wanna show everyone what else I can do besides Britney" Ummmmm… you walked back in, AS BRITNEY, and not even as good as your original entrance in S8."
A Slave For Derrick posted, "Everybody says Derrick is a filler queen but the bitch won a maxi challenge and was top 5, higher than half of the other queens in the cast." That, ladies and gentlemen, was a read.
Shea Coulee:
I 100% agree with the Facebook user who noted, "Shea Coulee' was robbed! I'm so happy she's back!!" Another wrote, "Justice for Shea Couleé."
Miz Cracker:
A Twitter user wrote, "Yet another Ru Girl that I'm super happy to see on All Stars. Miz Cracker deserves this so much. She's one incredible lady." Another added, "Miz Cracker, Shantay you stay."
Blair St. Clair:
"I'VE BEEN WAITING THIS FOR MONTHS AND I AM FULLY GAGGED @BlairStClair YOU'RE SO FUCKING PRETTY," shouted a Twitter user. Girl, I feel you, but stop shouting.
Another fan tweeted, "I'm still on a high that's @BlairStClair is on all stars 5!" 
Mayhem Miller:
"YAAASSSSS! Mayhem is a fav of mine!" exclaimed a Twitter user. Not everyone was that excited for the return of Mayhem, "All stars season 5 has the best cast…..and mayhem miller."
Most of the conversation around Mayhem Miller was her red bodysuit. "Mayhem Miller walked into the All Stars season 5 werkroom wearing a bodysuit from Amazon. I felt that. I feel that on every level. I am not even mad about it. Not even remotely. It really do be like that sometimes." 
I don't know about you, but I love a relatable queen.
Watch the season 5 All Stars make their grand-dame entrances here!
The RuPaul's Drag Race All Stars season 5 world premiere is Friday June 5 at 8/7c on VH1. and WOW Presents Plus.
Need more of RuPaul and her girls in your life?
I feel you, Kitty Girl. Check out the Alright Mary podcast to get an additional dose of Drag Race, the spin-off franchises, Dragula, and the wonderful world of drag. Here is the most recent episode.
Who do you think will win the title of America's Next Drag Superstar? Drop your predictions off in the comments!
---