RHOSLC's Jen Shah Teases 'THE TRUTH IS COMING' On New Website
Of course, Jen's website went live during part one of the RHOSLC reunion.
Ashley Hoover Baker January 25, 2023 7:04pm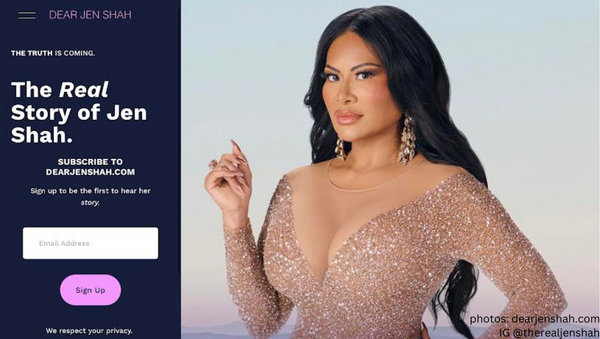 Real Housewives of Salt Lake City star, Jen Shah, is promoting her new website, dearjeanshah.com, on her Instagram page.
In true Jen form, the website went live during the premiere of the season 3 RHOSLC reunion.
The post:
Jen's Instagram post featured the following text on top of a JS logo.
"Thank you to my loyal fans who have remained supportive through this tough yet very enlightening time in my life. With the strength of my husband, children, close family, and friends – I am ready to tell my story without any misrepresentation or editing present."
"Please visit DearJenShah.com and subscribe as I tell my truth, and give you an inside look into the real Jen Shah."
"More details to come."
Since JS blocked on the 'gram, here is a screenshot of the post!
How much do you think #JenShah will charge? #rhoslc pic.twitter.com/MVWC8BxfDL

— OnThisDayENT (@OnThisDayENT) January 26, 2023
The website:
Jen didn't ask for money or credit card information on the website's homepage, but the website only features a few lines of text … along with a request for your email address to "be the first to hear her story."
"The Real Story of Jen Shah. THE TRUTH IS COMING. Subscribe to DearJenShah.com. Sign up to be the first to hear her story. MEDIA INQUIRES [email protected] We respect your privacy."
It starts with giving an email address. How long before #JenShah wants your credit card info? #rhoslc pic.twitter.com/1KZCcsBv8g

— OnThisDayENT (@OnThisDayENT) January 26, 2023
Since I refuse to give Jen Shah a dime of my money (or even my email address,) we will have to wait for a brave soul to release their findings behind the website's inevitable paywall.
Are you curious enough about what Jen's "truth" is to give her your personal information? Sound off in the comments.
---