RHOP's Second Degree Assault Case Between Monique Samuels And Candiace Dillard Bassett: An Investigation
Watch unseen footage of the fight for yourself!
Ashley Hoover Baker August 3, 2020 9:12am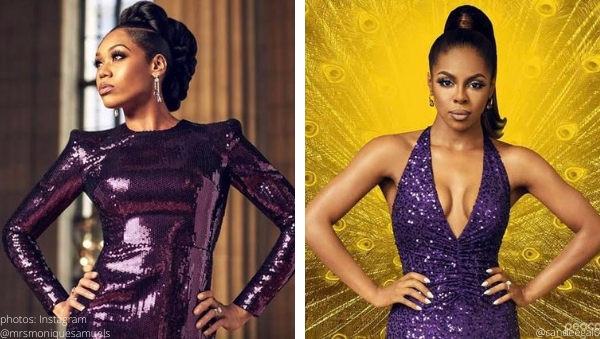 "We never thought as Black women we would be right here, but we are," Gizelle Bryant says in a scene from the fifth season of Real Housewives of Potomac. "We have been able to hold ourselves above the stereotype, and in five minutes, she took it away."
Welcome to an investigation of the second degree assault case between Monique Samuels and Candiace Dillard Bassett! What really happened?
The scene of the crime:
According to Bustle.com, "Bravo's cameras were reportedly rolling at an October dinner party [at Rocklands Farm Winery in Poolesville Maryland] when Candiace and Monique were involved in an alleged physical altercation, as fans saw teased in the RHOP season 5 trailer." Click here to watch the trailer!
The word on the street:
As viewers could see from the season 5 preview, the ladies were at a cast dinner party when Monique grabbed the newlywed by the hair, pulling her down as Bravo's cameras rolled.
A source from Cheetsheet.com provided more details explaining that Candiace threw a glass of red wine at Monique, making her bleed. That's when the mother of three grabbed Candiace by the hair and punched her three times in the head.
Both Potomac stars filed lawsuits against the other, each accusing the other of physical harm.
Monique's side of the story:
Monique's attorney, A. Scott Bolden, went on the record stating the claims against his client are "completely one-sided, inaccurate and unwarranted."
He sprinkled in some shade adding, "Ms. Dillard has a public reputation for aggressive, belligerent and threatening behavior that has played out repeatedly on the Housewives of Potomac for millions of viewers to see for themselves."
"To be sure, my client did nothing but defend herself in the face of more very aggressive behavior by Ms. Dillard. If this event occurred during taping of the show, I am confident that the video will bear all of this out. My client has every right to file for a counter criminal summons, as well, and will consider doing so, while fully defending herself in this action that has been filed with the Court. Either way, I am confident that she will prevail on this matter. Going forward, we hope that Ms. Dillard seeks the help she needs to avoid creating these kinds of unsafe and unfortunate circumstances in and outside of the workplace."
Monique assured ESSENCE she never wanted to involve the law when it came to the altercation. "I had no intention of pursuing any charge against Candiace. I had no intention of trying to see her in jail or even trying to get any money up out of her. I just wanted to move forward. She had other intentions and it dragged out to the point where every outlet is covering it without all the information."
Candiace's side of the story:
 According to Candiace's personal lawyer, James L. Walker, "At this time, we do not want to say too much and just allow the criminal process to play out. We only ask everyone to pray for our client Candiace and her family," Walker said.
"The physical assault, humiliation and emotional distress have all been very painful and difficult for Candiace, as it would be for anyone attacked so viciously," he continued.
Candiace made a statement regarding Monique's interview. "I am extremely disheartened by the inaccuracies stated in the recent interview by Mrs. Samuels on ESSENCE. I absolutely love the ESSENCE platform and everything that it represents and look forward to speaking with ESSENCE soon with regards what actually happened.  My fans and my brand are everything to me."
Monique clapped back:
In true Real Housewife form, Monique recorded a pop/rap track called Drag Queens that throws shades the physical feud with her co-star. Click here to listen to the song, which slaps may I add…
Gizelle is siding with Candiace on this one, as Monique is more at fault for the physical altercation. Cheetsheet reported Gizelle explaining, "Were they both in the wrong? Absolutely not. I do want the viewers to see and kind of give their opinion on who was right and who was wrong, but I don't feel like they were both wrong, no," she insists.
The court's ruling:
By late December 2019, the Montgomery County State's Attorney's Office "dismissed the charges against both women," according to Bustle based on footage of the incident compliments of Bravo, as well as interviews with both women and bystanders.
This must be a huge relief for Monique as second degree assault in the second degree can result in up to 10 years in prison and a $2,500 fine in Maryland.
Boots on the ground:
Shout out to the Bravoholic who did the lord's work in capturing this footage from the incident.
Want to stay up-to-date on all things RHOP?
I'll be going LIVE on Instagram every Wednesday from 5-5:30pm PST with an exciting new guest week! You'll find me on the 'gram on 8/5 with @ohnobravo! Watch here @tasteof_reality!
With the information you have now, whose side are you on? Leave Team Candiace or Team Monique in the comments!
---