Luann De Lesseps And RPDR Host Carson Kressley Spill The Tea About The RHONY Ladies
During an intimate zoom chat, Lu gave the scoop on Dorinda' departure, Leah's first season, and some unflattering stories about Ramona.
Ashley Hoover Baker August 28, 2020 2:26pm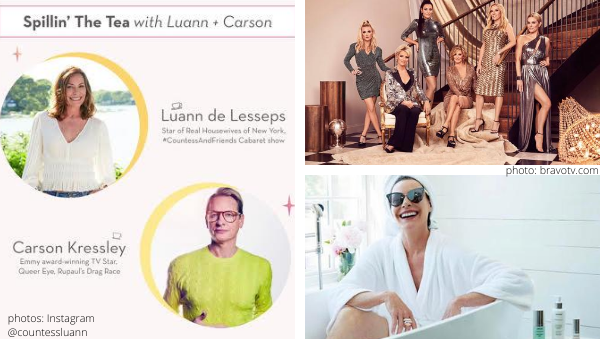 Lu and improved!
Real Housewives of New York star, Luann de Lesseps, is living her best life- even in 2020!
The latest RHONY star to get in the skin care game (Ageless by who?) was joined by her close friend/RuPaul's Drag Race judge, Carson Kressley to talk Sonage Skincare, but – more importantly – spill the tea on some hot Bravo topics.
Luann and Carson's kiki:
After applying a generous spritz of Soothing Mist from Lu's Survival Kit, Carson mentioned how much he's enjoyed the latest addition to the RHONY cast, Leah McSweeney – adding that Lu and Leah have the best rapport of the group. I'd have to agree with the popular television personality and host. Luah is the new Ramonja.
Know that.
"I just hit it off with her right away. I liked her from the get-go. She's really made a great addition to the cast," commented the Viva La Diva' singer.
Lu continued, "I think what people like about Leah is that she's relatable. She's a mom. She's a tough New Yorker who made her own life. She's vulnerable at the same time. She'll go in and talk about her issues with her family and I think people really relate to that. I think that's what people really like about her."
Questions for the Countess were posed by Carson and an intimate group of Sonage Skincare customers and Bravo influencers.
How does Ramona feel about your venture into skin care?
Lu responded to Steve from the popular Instagram account @facesbybravo and many other fans by detailing, "I sent Ramona the gift basket (that you got) from Sonage. Do you think she even thanked me?"
Carson sarcastically responded, "No, I don't. She's so grumpy and busy being Ramona that I could see how it could just slip her mind."
Lu explained that she asked Ramona while filming the first in-person reunion since covid-19 shutdowns if she received the Sonage package, knowing very well that it was delivered.
Ramona's response to being asked if she received the gift? "Oh, I don't think so."
Carson quoted pop icon, Ariana Grande, and said "Thank you, next" to the Ramona Coaster.
More about Lu's Sonage gift baskets to the RHONY cast…
"I sent them to all the girls, of course, because I wanted to share my beautiful survival kit with them. I sent them to everybody, and the only person that thanked me was Sonja [Morgan] and Leah. You know the rest."
Carson commented that he wasn't surprised their mutual friend, Sonja (with a sexy 'j'), thanked Lu adding that he was "sure she loves it."
The cabaret crooner jumped right in joking, "Sonja loves anything that's free." (We can always count-on-the-Countess for a quick one liner!)
What are you doing here without Dorinda?
News of Dorinda Medley quitting/getting fired from RHONY dropped on Tuesday, 8/25 and Sonage's Spill The Tea With Luann And Carson zoom event was the following day, August 26th. Naturally, many questions regarding Dorinda's departure flooded in.
"First of all, my phone is blowing up about it. She was on the fence; she had a rough year." Lu continued to detail how emotionally affected Dorinda was after her home flooded, leaving her deceased husband's belongings floating in her basement.
"She broke up with John, and I think it was just all too much and I think she's just decided to take a break. There was a lot of drinking going on. Listen, we all drink on the show, so I'm not pointing any fingers and I wouldn't do that, so I think it was a decision she had been thinking about and I think it's a good thing for her to take a year off and just chill out."
I'd like to commend Lu for being such a good friend to Dorinda, even though she doesn't always deserve it. She finished her statement regarding Dorinda's news by declaring, "The door is always open for her 'cause we love Dorinda."
The 'Chic C'est La Vie' performer finished answering Ryan Bailey from the So Bad It's Good With Ryan Bailey podcast's question clarifying, "I just feel like she [Dorinda] couldn't hear what we were saying. It was coming from me, it was coming from Ramona, it was coming from a lot of us who were trying to get through to her and she just didn't see that it was an issue, this anger thing. When we had parties and things, she was getting a little angry it turned out. I wish her only the best because I love Dorinda and I really want her to take this time to regroup and get healthy and make Blue Stone Manor perfect for when she comes back."
Luann didn't mention if the rumors of Dorinda getting fired were true, and guests were muted so we couldn't follow up with the Sonage Skin Care partner.
The Real Housewives and the Queer Eye OGs resume their chat and break down the current season of Real Housewives of Beverly Hills, including their takes on the alleged Denise Richards/Brandi Glanville hookup, the RHONY reunion, at-home confessionals and so much more! Here are some highlights from the zoom event from @onthisdayentertainment's Instagram page!
Want more deets from Sonage Skincare's exclusive Sipping The Tea with Luann and Carson event?
Subscribe to the On This Day Entertainment podcast so you don't miss more exclusive deets from this gossip sesh. The episode revealing Lu and Carson's hot takes on the Denise Richards/Brandi Glanville rumor, the current season of RHOBH, their personal friendships with the BH housewives and so much more will drop this weekend!
In addition to Dorinda, do you think any other RHONY housewives will not return for the hit show's 13th season? Drop names in the comments!
---