RHOBH's Erika Jayne Girardi Responds To Attorney's Wife Buying The Diamond Earrings She Forfeited
"This was a personal thing and they are obsessed - 1,000% obsessed."
Ashley Hoover Baker December 25, 2022 9:40am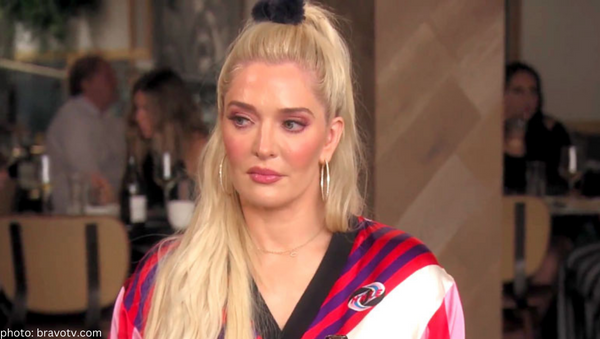 Real Housewives of Beverly Hills star, Erika 'Jayne' Girardi didn't hold back when asked about Attorney Ronald Richard's wife purchasing the $1.4M diamond earrings she was forced to forfeit to the government.
The wannabe pop star confessed to Real Housewives of Orange County icon, Tamra Judge, and her co-host on the podcast, Two Ts In A Pod, that she wasn't surprised by Lauren Boyette Richards made the high-priced purchase.
Not surprised:
"I would love to say I'm shocked but at this point in my life, I'm just not," explained the controversial RHOBH star.
"It's frightening because this is someone that leaked my address, that has been ruthlessly doing anything he can to basically push himself into my life and into everything that has fallen apart around this entire situation, and the earrings are a part of it."
Obsessed:
Hey, Siri. Play 'Obsessed' by Mariah Carey
The estranged wife of the infamous attorney Tom Girardi called Ronald and Lauren out for their obsession with her.
"They're so obsessed. It's a trophy and you can feel it and you can see it. It's really weird and I've raised it many times with many people."
If the shoe earrings fit…
Erika didn't stop there. "That's who these people [Ronald and Lauren] are."
"I've always said, let the courts figure it out," reminded the XXPEN$IVE singer of her attitude toward the charges facing her.
"The earrings that went up for auction, it's fine. I get it. But even if you bought them, what's the point? Resell them and keep going on with your life. If she wanted a pair of diamonds, the world is littered with beautiful diamond earrings, believe me."
"This was a personal thing and they are obsessed – 1,000% obsessed."
ICYMI:
Lauren took to her Instagram page to flaunt her new baubles … and throw shade at how Erika received the earrings.
"I now see why you fought for these @theprettymess They are stunning! Should I have Girardi removed? 🤔"
View this post on Instagram
Do you think Ronald and Lauren Richards are "obsessed" with EJG or are they trolling her for fun? Drop your opinion off below.
---