RHOBH's Erika Jayne Girardi Must Return $1.4M Earrings
Erika posted glam photos to her Instagram page just hours before Attorney Ronald Richards broke the news.
Ashley Hoover Baker February 4, 2022 7:49am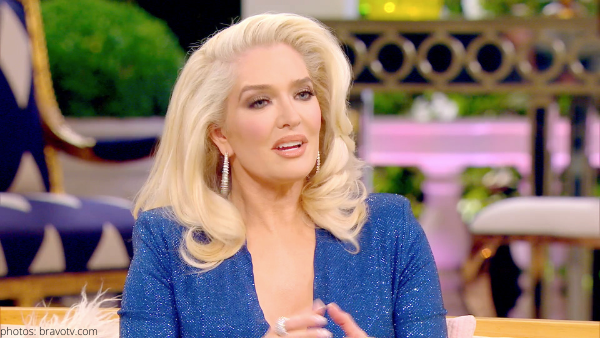 _________________________________________________________
Updated post 4/4/2022 @7:49 
"Some people call me cold, but that's not ice- it's diamonds (purchased with stolen funds.) -Erika 'Jayne' Girardi 
Attorney Ronald Richards took to Twitter to provide an update on the $1.4 million diamond earrings (value reported as $1.4M, not 750K by DailyMail.uk and The-Sun.com) the controversial Real Housewives of Beverly Hills star received from her estranged husband, Tom Girardi.
The breakdown:
The XXpen$ive earrings must be returned by the end of the business day of Monday, February 7th, 2022.
The popular attorney pointed out that Erika posted photos of herself in full hair and makeup with a gold jewel-encrusted gold crown with the captions 'Art.' and the star cluster emoji to her Instagram page.
*I think the only thing worse would have been posting photos of herself in the earrings to her social channels, but in the words of RHOC alumni Tamra Judge, That's My Opinon!*
View this post on Instagram
View this post on Instagram
There's more:
Ronald Richards attached a two-page rundown of the "PENDING CASES/CLAIMS/ INVESTIGATIONS/AUDITS AGAINST ERIKA GIRARDI" after two un-staged photos of the Bravolebrity.
In a nutshell, EJ's legal journey will continue March 3, 2022 at the LA Superior court for the case 'Judy Selberg vs Erika Girardi.' There are a couple of hearing dates in April '22, a final status conference of 9/2/2022, and the 'Trial/Discovery proceeding' on 9/12/22.
Oh, you should know the total amount of stolen money associated with Erika totals over $34M dollars.
See for yourself:
Update on Erika Girardi: Earrings to be turned in by Monday February 7th, COB. Last weekend of glam and flossing the bling. Updated case list attached, obviously there are plenty against her. And no, her attorney nor EJ will not abridge our First Amendment rights nor yours!🥽 pic.twitter.com/JYcUOy96ju

— Ronald Richards (@RonaldRichards) February 4, 2022
_________________________________________________________
Original post 1/26/2022 @13:33
It's XXpen$ive to be Erika Jayne Girardi!
The crime:
Courts are investigating a pair of $750,000 diamond earrings that were gifted to the RHOBH star in 2007 by Tom Girardi.
Documents allege the funds for the XXpen$ive jewelry were stolen from clients at his old law firm, Girardi & Keese.
Page Six reported, "Not even the trustee alleges that Erika knew the source of funds that her wealthy husband used to buy her a gift of earrings 15 years ago (which replaced a prior set of earrings bought years prior to that)."
Erika agreed not to sell or transfer the earrings pending the investigation, in a "showing of good faith," despite being ignorant of where the funds came from.
The cover-up:
The legal docs allege, Tom "then concealed the theft by describing the purpose of the check on the GK Rezulin Trust Account ('RTA') Ledger as a 'cost' item of the 'Rezulin' mass tort litigation, noting the payee to be 'M&M' without further explanation."
Erika's side:
The RHOBH star's attorney, Evan Borges, called the trustee's allegations "inadmissible hearsay based on no statement from anyone with personal knowledge, and which amounts to random Girardi Keese ('GK') records that the trustee stated only months ago were in complete disarray and unreliable."
"He added that the claims 'casts doubt' over the allegation that Girardi Keese funds were used to pay for the earrings."
Borges claims Erika is being accused "for the conduct of others, including her now-estranged husband who is under a court-ordered conservatorship and allegedly mentally incompetent."
I don't know about you, but this is pretty accurate as to how I would react if I had to part with a pair of $750,000 earrings…
Want to stay up-to-date with the Real Housewives?
Check out Zachary Reality for the latest news and gossip from Bravo, Bachelor Nation, and beyond.
Do you think Erika knew about Tom's alleged crimes? Drop your opinion off in the comments.
---