RHOBH's Erika Jayne Girardi Takes To Instagram To Reinforce Her 'Snow In Pasadena' Narrative
"I told you 3 years ago but yall ain't listen."
Ashley Hoover Baker February 22, 2023 12:03pm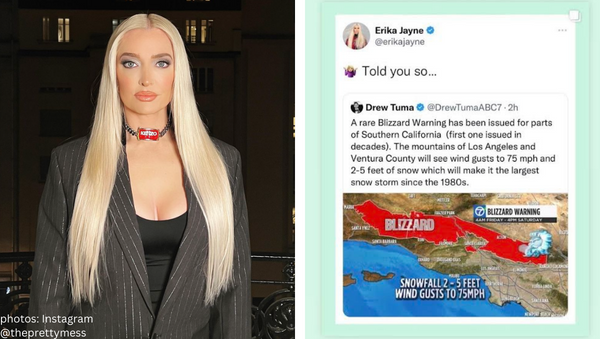 Sunny Snowy California:
Real Housewives of Beverly Hills star, Erika Jayne Girardi, has taken to her Instagram story to reinforce her 'it snows in Pasadena' narrative.
The estranged wife of Tom Girardi reshared a post she was tagged in regarding the weather in California. "I told you 3 years ago but yall ain't listen."
Another page of her Insta story came from KTLA5 News. Erika reposted, "Storm poised to deliver heavy rain and snow; potential for snowflakes in Los Angeles area valleys" along with, "@theprettymess tried to tell you."
Not buying it:
IG's @bravosnarkside was one of the many Bravo TV fan pages to post a response to Erika's stories.
The blog hilariously used Erika's own words against her. "Lol it wasn't snowing it was hail 😂😂😂 and this blizzard warning is for the Angeles National Forest areas in the mountains not Pasadena."
"It literally says it hasn't snowed since 1980's girl."
View this post on Instagram
The comments:
RHOBH fans are not having Erika's story.
"She really thought she did something here 😂"
"When Erika opens her mouth all I hear is pure BS coming out."
"And just because it could happen doesn't prove "it happened" 🤦‍♂️ she needs a new PR firm"
"And it's the first for decades….pretty sure her son didn't flip his car decades ago. Bravo need to get rid of her, then I'll start watching bh again."
"It literally said it's been decades since they've had one that bad sooo 🤷🏻‍♀️ lol"
"This doesn't prove anything the weather report literally says they haven't had this much snow since the 80s not 2021"
Do you think today's weather report gives any credibility to Erika's story? Sound off below.
---