Eboni K. Williams Explains What She Wanted From Ramona Singer And Luann De Lesseps At The Cancelled RHONY Reunion
"Absence brings questions."
Ashley Hoover Baker November 6, 2021 6:00am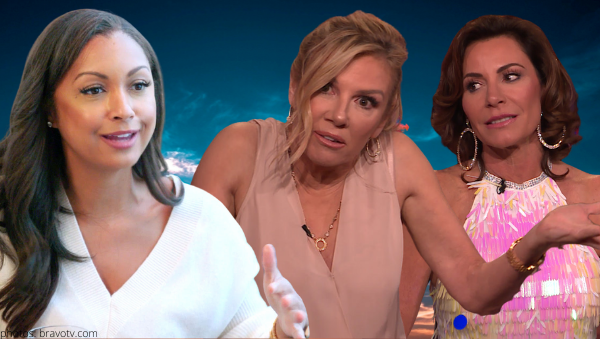 Real Housewives of New York star, Eboni K. Williams joined S'More Date creator Adam Cohen Aslatei (ACA) on an episode of S'More Live on Instagram and dished on the closure she was seeking with Ramona Singer and Luann de Lesseps on the cancelled season 13 RHONY reunion.
Eboni on Luann:
"I think Luann and I probably needed the most closure."
"I would have just wanted closure with Luann because we ended the season at what I felt was a really strong place and I think we all agree that the final episode was probably the first episode that I think everybody let their hair down. Everybody let their guard down and we were vibing as a real, authentic girl friend group. And that was awesome."
The attorney and political commentator explained as the "complicated, intensely emotional" episodes began to air, "Lu and I simply did not have much conversation during the airing of those episodes."
"I didn't take that any particular way as much as absence brings questions."
"I was looking forward to a reunion where Luann and I were able to sit down and say 'Listen, how did that feel for you?' I'd share how it felt for me and we keep it pushing."
Eboni on Ramona:
"Ramona and I needed probably a little less closure than Lu and I because Ramona and I had not a lot of conversations during the airing of the episodes, but we did go to dinner."
"We went to dinner at the conclusion of the episodes airing and I think it was productive in the sense of we are two adults coming from two very different worlds."
"Both extremely stong minded and affirmed in who we are and what we represent and I think we actually were able to get to a place of acknowledging the limitations of what our relationship will be and also acknowledging where there is actual opportunity to be in some kind of relationship together."
"To me, that was as good as it gets for me and Ramona and I'm not mad at it."
"I welcome what it could look like moving forward."
In case you missed it:
Eboni's S'More Date interview was the same day that news broke regarding what Ramona *allegedly* said about Eboni that caused the reunion to be cancelled.
View this post on Instagram
Watch the full interview here:
View this post on Instagram
Gimme S'More:
Check out S'More Date on Instagram for weekly celebrity interviews.
Like the show Love Is Blind, S'More Date builds meaningful connections between people before they see one another. Download the S'More Date app!
Do you think Eboni will successfully forge real friendships with Ramona and Lu, or will their relationships end when cameras stop recording? Drop your opinion off in the comments!
---