Luann de Lesseps Arrest Video Released!
This is not a good look for The Countess.
Genny Glassman May 1, 2018 6:47am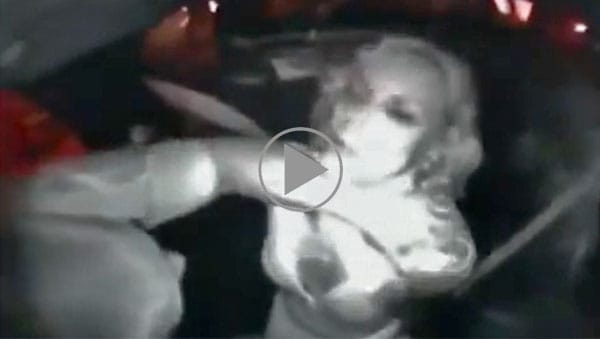 It was a rough weekend for Real Housewives of New York's Luann de Lesseps . A video of the 52-year-old reality star's December arrest was released on Sunday, showing Luann in the back of a police car in her bra yelling at the arresting officer, "I will kill you."
Footage from the car's dash cam reveals an intoxicated Luann repeatedly telling the officer's "Let me out. I've done nothing wrong." It looks like the officer was loosening Luann's cuff so that he could buckle her into her seat, but as the reality star starts to resist, things start getting dicey.
Slurring, Luann starts to threaten the officer, "I'm going to get you. You're going to be so bad, that you — I've done nothing wrong."
As the officer tries to get Luann into his vehicle, The Countess makes her fatal error, "don't touch me! Don't touch me! I'm going to kill you! I'm going to kill you!" she tells him.
Launn then attempts to get out of the car, causing the officer to tell her that he will "hog-tie" her if she doesn't cooperate.
The video comes at a particularly precarious time for Luann. According to TMZ, this incident lead to a felony count of resisting arrest with violence against an officer and 2 misdemeanors for trespassing and disorderly intoxication. Though Luann has gone to rehab and publicly apologized for her behavior, she still awaits trial.
Additionally, several news outlets are reporting that Luann was caught smoking marijuana outside of a New York City Hotel by a fellow party goer. According to *ahem* The High Times, the attendee of a Tribeca Film Festival party, says that they offered Luann's niece a cigarette and that Luann, "took [their] friend's blunt."
A representative of Luann's gave a statement to Page Six, "Luann smokes occasionally to help with anxiety and pain from her accident." (de Lesseps was involved in a car accident in 1999). Currently, marijuana has been decriminalized in New York, but that only pertains to medical marijuana obtained with a doctor's prescription and marijuana may only be consumed on private property. The report does not mention actually seeing Luann smoke her blunt, but come on now…what else is she going to do with it?
We don't know how or why Luann's video was released to the public, but rest assured this video and reports of her smoking weed cannot be good for her impending trial.
Tell us how you feel about Luann's messy weekend in the comments!
---