Viewers React To The News Kate Chastain Is Leaving Below Deck
The majority of fans are upset and disappointed by the head stew's departure.
Ashley Hoover Baker February 18, 2020 3:33pm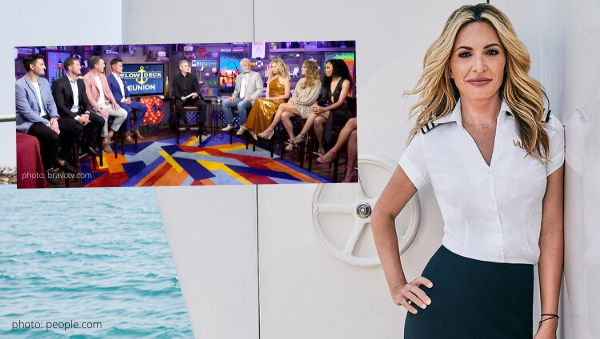 Anchors away!
Viewers react to the news of Kate Chastain leaving Below Deck. The majority of fans are upset and disappointed by the head stew's departure, but don't blame her after the tone season 7.
In case you missed it:
Kate announced that she was not going to return to Below Deck for season 8. She shared her plans for the future on Instagram. "After many months of reflection and internal discussions, I have chosen to make a transition this year in starting to carve out a progressive new land based role. I intend to step back as a senior member of the Below Deck Family and work to become financially independent, while continuing to fully support His Majesty Andy Cohen."
Fans react:
Comments varied from "😭😭😭😭😭😭😭😭😭 Nooooooooo," to "Ok so basically there's no point in watching anymore is what your saying?"
Many fans made sure to include their displeasure with the 7th season of Below Deck that aired the second part of the reunion on 2/17/20 in their messages to the fan favorite. "We will miss you, Kate – best of luck!! (can't say I blame you after watching this last charter season…)." Another comment stated, "#NotShocked but that sucks! We will miss you and NOBODY can fill your shoes! The show won't be the same without you!"
I could cry. I love Kate so much. She is below deck. I don't know how anyone could replace her. Sending so much love to Kate on her next adventure ❤️ #belowdeck
— Mousewife (@mousewives) February 18, 2020
"Andy doesn't deserve your service, he was pathetic tonight. can't wait to see the show sink without you."
Can you blame her? Esp after this reunion @Andy conducted as a bru
— MW (@ChelliWade) February 18, 2020
"For your own physical and emotional safety, I fully support this! You have entertained and made us laugh for years, thank you for that! The amount of abuse you had to suffer this past season for "ratings" from production, was crazy and unhealthy. Can't wait to see what you do next!"
Figured as much. It's tiring having to deal with people who do not want to do their jobs or being assaulted at work.
— 𝐿𝒾𝓉𝓉𝓁𝑒 𝒮𝒾𝓅𝓈 𝑜𝒻 𝒯𝑒𝒶 (@littlesipsoftea) February 18, 2020
Though the majority of comments were pro-Kate, there were some haters. "i [sic] for one will not miss you."
Good! I may actually watch next season now!
— Cassandra (@sassycass100) February 18, 2020
Good…she is a wicked person.
— L Johnston (@LJohn1023) February 18, 2020
Bravolebrities and Bloggers react:
Below Deck Med's Colin Macy-O'Toole wrote, "Congrats girl! 🙌🏼," whereas his fellow BD: Mediterranean star, Kasey Cohen, posted, "So excited for you bb💕✨."  Josiah Carter simply used heart emojis to express his feelings for Kate's news, "❤️❤️❤️❤️."
Danny Pellegrino posted, "👑!!!! We will miss you!!!❤️," while Heather McDonald wrote, "What if I agreed to be a charter guest? Then would you stay on?"
Kate's future:
Since Kate wrote that her future includes plans to "fully support His Majesty Andy Cohen" while residing in her New York home, fans naturally had Real Housewives of New York on their mind.
One of my favorite Bravo fan pages on the 'gram, @ohnobravo, created a hilarious hashtag, #stewsbeforebrus.  before commenting, "😩 hope to see you on rhony🙏🏼."
@ohnobravo isn't the only one to see Kate with a New York (housewives) State of Mind. Another commenter asked, "So are you joining Housewives of NYC?"
Hopefully to become a RHONY!!!
— Sandra Harper (@sharper02) February 18, 2020
What do you think led Kate to separate from the popular Bravo show? Drop your opinion off in the comments!
---