My Unorthodox Life's Julia Haart Was Fired And Filed For Divorce- On The Same Day
I think it's safe to say Julia is NOT feeling 2022...
Ashley Hoover Baker February 9, 2022 5:16pm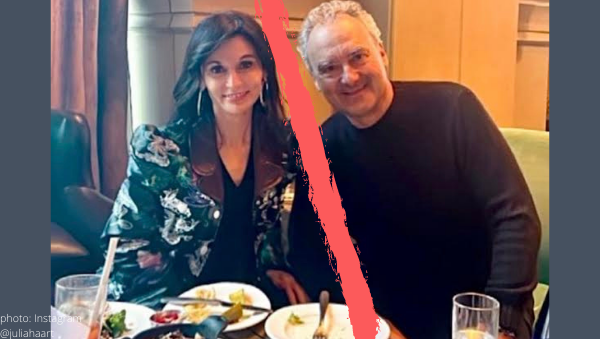 Hey Siri. Play 'Bad Day' by Daniel Powter.
Julia Haart from My Unorthodox Life was fired from Elite World Group and -hours later- filed to divorce the company's owner Silvio Scaglia.
You're fired:
According to reports from Page Six, "Julia had no idea when she woke up this morning that she was going to be leaving."
"The news of her departure went out on a trade website and then she filed for divorce in Manhattan Supreme Court around 12 p.m. This was absolutely not her plan for today. It's f–ing crazy over at Elite."
A second source spilled the Netflix star left the building at "9:30 or 10 a.m.," alleging she was "completely blindsided" by her termination.
Just hours after Julia was fired from Elite World Group, she filed for divorce.
Splittsville:
"According to court documents, obtained by TMZ, Haart filed the paperwork in Manhattan on Wednesday to divorce her husband Silvio Scaglia. The two tied the knot in June 2019."
In case you missed it, Silvio purchased Elite World Group fashion and talent agency in 2011. He appointed Julia co-owner and CEO in 2019 (yes, the year they tied the knot) despite her lack of experience in the field.
Page Six sources revealed Julia can't even be found on the company email.
What went wrong?
Though rumors circulated in December of 2021 that the couple was having trouble, Julia posted a photo to Instagram of her smiling with Silvio after filming season 2 of My Unorthodox Life just last week.
Looks like we are going to have to wait for season two to drop to learn the whole story- unless we get lucky and they air their dirty laundry on social media.
Stay tuned!
View this post on Instagram
I think it's safe to say Julia is NOT feeling 2022…
Did you see this coming? Sound off in the comments!
---