Dancing With The Stars' Mauricio Umansky And Emma Slater Are "Not Dating"
The pair promises they are just "really good friends" who hold hands.
Staff October 26, 2023 12:48pm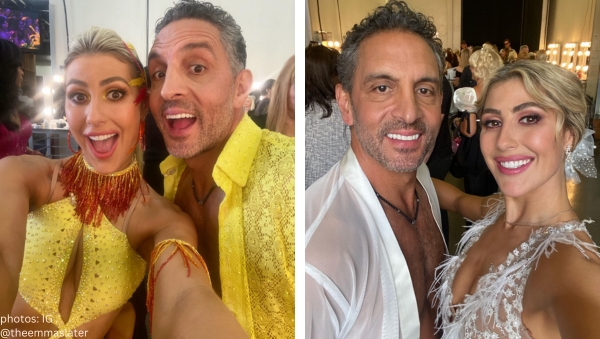 Contrary to popular belief, Dancing With the Stars's Mauricio Umansky and Emma Slater are not dating.
At least that's the story they're telling us.
The Real Husband of Beverly Hills and his professional dancing partner took to his Instagram story to set the record straight.
"I do want to address this story about whether or not Emma and I are dating. Whether we went on a date…"
The Buying Beverly Hills star explained, "For clarity, we are not dating."
"We are really good friends. We have been dancing together for six weeks, four hours a day, every single day."
Emma interrupted – as any DWTS fan knows is her thing – to add, "It's intense. You really fond a very special bond and I think we have similar personalities so we got a super supportive relationship."
"We are definitely there for each other and it's beautiful. It's a great thing."
Mau agreed their relationship is "a great thing" and added, "We're really good friends."
"Just to clarify, we went to a restaurant to grab some sushi right after rehearsal … we were in our rehearsal clothes," explained Mauricio.
"Lots of the stories are wrong."
"Yes, when we had a very intense week, a very emotional week. We were talking about the week during dinner."
"When we came out of dinner, we were recapping. I reached down to grab Emma's hand and she grabbed my hand and we walked to the cars just recapping and summarizing."
"The paparazzi caught that moment" and ran with the rumor from there. "That's it."
Mauricio promised, "We are going to keep dancing. We are going to keep having fun."
View this post on Instagram
It's no secret Mau and his estranged wife, Real Housewives of Beverly Hills's Kyle Richards, had a difficult year.
That doesn't make seeing your spouse of 27 years canoodling with another person any easier … Kyle was a recent guest on Watch What Happens Live and spilled to Andy Cohen that her feelings were hurt seeing Mau and Emma holding hands.
I wonder if that's how Mauricio feels seeing Kyle galavanting around with her alleged girlfriend, Morgan Wade.
Do you believe Mau and Emma are just friends? What about Kyle and Morgan? Sound off in the comment section.
---