Lisa Vanderpump Describes Coronavirus As Revolving Door For Shelter Dogs
Several people are adopting, while others are ditching their dogs.
Ashley Hoover Baker March 24, 2020 12:42pm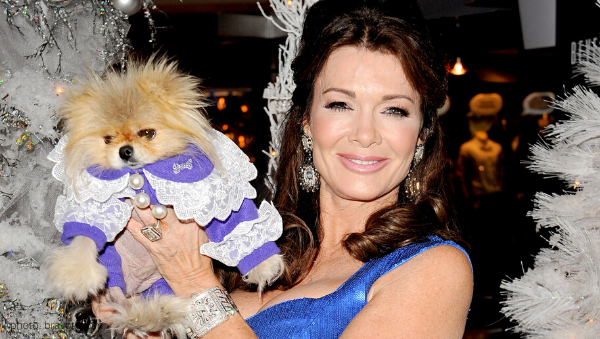 Vanderpump Rules boss, Lisa Vanderpump, says coronavirus is a revolving door for shelter dogs, as several people are adopting furry friends, while others are ditching their dogs altogether.
Why are so many pups up for adoption?
Lisa made an appearance on "TMZ Live" to share that this situation is more practical than cruel. The Vanderpump Dogs 'HBIC ' explained that many people are losing their jobs right now, and don't have the means to care for their canines. As a result, they're leaving their beloved pets at the pound — and that can be very sad news for those that don't get adopted.
According to an LVP's Instagram post,  "I know so many people have lost income, or have caught this virus, or are working on the front lines to combat it, and I am so deeply grateful for all the people helping in this crisis, from first responders, health workers, scientists, nurses, doctors, to grocery store employees, delivery workers, pharmacy employees etc."
She continued, "
I am in shock at what has happened in the world in a few short weeks. I know how lucky I am, to be here safe in my house and healthy, and my thoughts and prayers really do go out to each of you affected by this horrific pandemic."
An important tip from LVP:
Another issue is adopter's remorse, which Lisa says can be dealt with fairly easily. The restaurateur recommends that people foster first, see if it's for you, and "then sleep on it long and hard if you truly think you wanna adopt," according to TMZ. The goal is to find a forever family for these furry friends.
Lisa is confident that once someone makes the decision of becoming adopting a new best friend – they won't regret it. 
In true Lisa form, she left us with a laugh…
LVP, finished her IG post, "In the meantime, I will try to be posting things that will hopefully take your mind off things, or peeks into our pretty boring #isolation home life of me trying not to strangle Ken daily 😂." Same, girl. Same.
The show must go on:
Real Housewives of Beverly Hills season 10's trailer dropped last week, making LVP stans saddened that the pink lady won't be returning to Bravo's hit franchise. Bravoholics will see the return of the RHOBH cast, including cast newbie, actress Garcelle Beauvais.
Watch the trailer for the 10th season of RHOBH here. In case you'd like to listen to my break down of the season 10 RHOBH trailer, here ya go.
Will you miss LVP and Vanderpump Dogs on RHOBH? Spill your tea in the comments!
---