Love Is Blind's Jessica Batten Is Pregnant With Her First Child
The season 1 LiB star and her husband, Dr. Benjamin McGrath, are "excited and humbled."
Ashley Hoover Baker January 5, 2023 12:05pm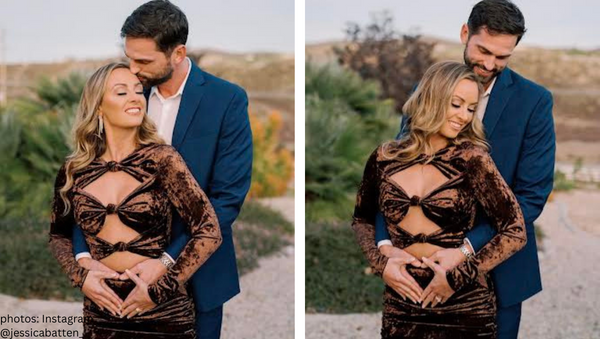 Congratulations to Love is Blind season one star, Jessica Batten! She and her husband, Dr. Benjamin McGrath, are expecting their first child.
The memorable LiB personality took to her Instagram page to share her growing family's great news.
The post:
Jessica posted a series of photos wearing a crushed velvet dress with cut-outs revealing the mom-to-be's decolletage and toned stomach. Benjamin's hands were perfectly intertwined with hers in the shape of a heart. CUTE!
The reality tv star captioned the photos, "New Year, Same Me, New Mom! 🤰✨."
"Sending the best wishes and blessings your way in 2023🙏✨."
"We're excited and humbled to share we will welcome our baby into the world and into our growing family in early June ♥️ Ahh!!!"
View this post on Instagram
Reactions:
Jessica's LiB1 co-star, Giannina Gibelli, was quick to comment, "Omggggg yayyyy congrats!!" while Lauren (LC) Chamblin dropped, Ahhhh this is so exciting!!! Congrats 🥰🥰🥰🥰 in the comments."
Comedienne Whitney Cummings simply left an excited "Yesssss!" partnered with the emojis "🐝🫶🏼🐺." **(Can someone cooler than me kindly take to the comments to explain this please and thank you.)**
Kenny Barnes from The Bachelorette and Bachelor in Paradise alum was both happy and surprised by the news. "No way! Congratulations!!! ❤️."
Which LiB alum do you think will be next to announce a pregnancy? Drop names in the comments.
---