Lamar Odom Admits He Never Heard Of Todrick Hall Until Celebrity Big Brother
Ashley Hoover Baker February 23, 2022 9:25am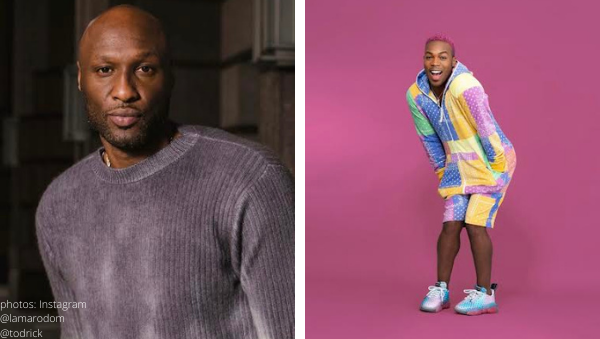 ---
Updated post 2/23/2022 @9:25
Lamar Odom took to Instagram to drag his former Celebrity Big Brother housemate/"fake friend" Todrick Hall.
Using a black background with white letters, Lammy posted "You should have played Chess Not Checkers Todrick" to his page with the caption, "So I was booted off of @bigbrothercbs by my fake friend Todrick 😳."
"He should have been a bit more strategic as he must have forgotten I get a jury vote for the winner !"
View this post on Instagram
The social media jury has sided with Lamar over Todrick with comments on Lamar's post stating, "Been voting for you every day. Todrick was never your friend," while others yelled, "YASS GET HIM LAMAR," and "DRAG HIM!!! 👏."
Another commented, "don't worry lamar, todrick definitely isn't winning. the jury will make sure of that!!"
The comments on Todrick's Instagram page, on the other hand, have been disabled.
Who do you think will be the season 3 CBB winner? Sound off in the comments.
---
Original post 2/22/2022 @14:00
NBA icon, Lamar Odom dribbled some low-key shade into Todrick Hall's court and Celebrity Big Brother fans are living for it.
In an exclusive interview with US Weekly, Lamar admitted "I've never even heard of him [Todrick]," but had a friend who was skeptical the former American Idol finalist may also be in the Big Brother house.
"She had a gut feeling and she told me that he was a person that I would have to keep my eye on."
On Todrick's gameplay:
It's no secret that Lamar's expert moves on the basketball court didn't translate to the CBB house.
With that said, even Lamar can see that Todrick's cut-throat strategy isn't keeping him in good graces with his fans.
"The hit that Todrick is taking from the outside world. I don't think that was his plan at all. I know how much social media and his fans and the people mean to him. I don't really think he wished to rub anyone the wrong way."
"He took the wrong approach to winning and playing a game. I think that was kind of obvious when he won the HOH. And then he even, after he won the HOH, he comes downstairs still singing. 'HOH!' I thought that was a gloat. There's a certain way to win and a certain way to lose."
One mojito, hold the lime:
Sure. Fans of CBB witnessed Lamar and the recurring judge on RuPaul's Drag Race dressed as a mojito and lime, but that doesn't mean the pair mixed well.
When referencing the moment he ripped up Todrick's playing cards, Lamar explained what made him snap.
"I don't know. It was hard for him to stop talking about himself."
What's next for Lamar:
The on-screen bromance between Lamar and tv pioneer, Todd Bridges, will hopefully evolve into another televised alliance between the pair.
"Me and Todd were even thinking about a sitcom together because our energy was so good together."
"People seemed to feed off of it. If he can get the name Willis back, we were probably going to call it Willis and Lammy. I think we could get a good response if we get somebody to write something up."
"I wouldn't mind moving back to L.A. to become a sitcom star. I never thought that would happen, but God puts things in front of us and it's up to us to make the decisions to take it or turn it down."
Do you think Todrick's career will feel the wrath of the CBB community after his time in the house? Sound off in the comments.
---