Kyle Richards Gets Called Out For Steamy Morgan Wade Video After Refusing To Kiss A Co-Star On Screen Because She's "Shy"
Never forget, Kyle had a script rewritten in 2021 to avoid kissing a co-star.
Staff August 12, 2023 1:51pm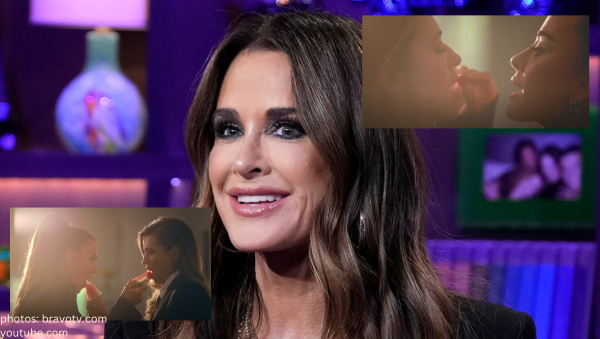 Real Housewives of Beverly Hills star, Kyle Richards, is getting called out for a kissing contradiction.
The RHOBH OG co-starred with Morgan Wade in the country singer's latest music video for the song Fall In Love With Me.
The friends got quite … ahem … close on camera, adding fuel to the "salacious" rumor that they are in a romantic relationship.
Kyle is an actress, so getting physically close to a co-worker during an acting gig – despite being married – shouldn't be a big deal. It wasn't in 2023 with Morgan.
This is where it gets interesting …
Shout out to Instagram's @SheSpeaksBravo who reminded her followers of an interview Kyle did with ETonline.com in December of 2021 while promoting The Real Housewives of the North Pole.
Just two years ago, Kyle revealed that she changed the holiday film's script so that she wouldn't have to kiss anyone other than her husband, Mauricio Umansky.
"I've never kissed anybody else since I met my husband. So it went from the lips to the cheek in the movie."
The Halloween actress added, "I'm kind of shy like that."
Kyle didn't look very shy when she seductively fed Morgan fruit and canoodled the country crooner … 
View this post on Instagram
What do you think of Kyle's change of heart? Drop your opinion below.
---