Kyle Richards And Mauricio Umansky Deny Divorce Rumor And "Salacious Narrative"
"We have had a rough year ... but we both love and respect each other tremendously."
Staff July 4, 2023 7:49am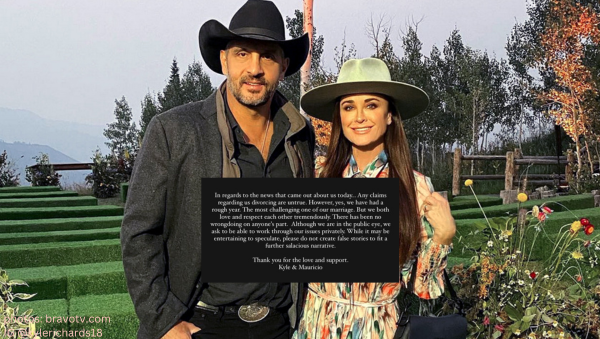 Real Housewives of Beverly Hills star Kyle Richards and her husband, Mauricio Umanksy took to social media to share a joint statement regarding news of their split.
"In regards to the news that came out about us today… Any claims regarding divorcing are untrue," they began.
"However, yes, we have had a rough year. The most challenging one of our marriage. But we both love and respect each other tremendously."
The parents of three daughters added, "There has been no wrongdoing on anyone's part" to avoid any commentary from the court of public opinion … especially after romantic rumors of Kyle and country singer Morgan Wade circulated the internet.
"While it may be entertaining to speculate, please do not create false stories to fit a further salacious narrative. Thank you for the love and support."
In addition to RHOBH, Mauricio – along with his two oldest daughters – starred in the Netflix series, Buying Beverly Hills.
"Although we are in the public eye, we ask to be able to work through our issues privately."
View this post on Instagram
Do you think we will see this play out on RHOBH or do you think Kyle is trying to keep it off-camera? Sound off below.
---