There's A Theory Kyle Richards' Daughter, Farrah Brittany, Called Off Her Engagement
Farrah was *allegedly* inspired by
Staff August 22, 2023 4:27pm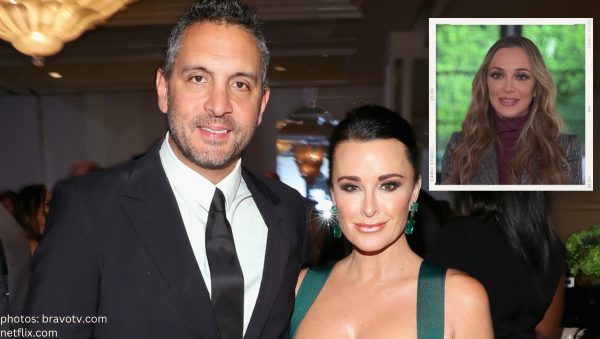 Real Housewives of Beverly Hills OG, Kyle Richards, and her husband, Mauricio Umansky, aren't the only couple in their family that is experiencing difficulty at the moment …
Kyle's daughter from a previous marriage, Farrah Brittany, has allegedly called off her engagement to Alex Manos.
The account that potentially outed Kyle's romance with country music singer, Morgan Wade, was tipped off from an insider from The Agency regarding Farrah's relationship status.
Instagram's @FaceReality16 posted some interesting points about Farrah and Alex's possible split.
"The last time they posted a pic on IG was Christmas 2022."
The content creator pointed out, "You can see Farrah's ring in this recent video from Italy but she's been hiding her handing most photos."
Additionally, @FaceReality16 received a tip claiming, Kyle and Mauricio's separation had also caused "Farrah to reevaluate her relationship and eventually call things off."
There's more evidence that there's trouble in paradise between the Buying Beverly Hills star and the President of Beverly Hills Car Club …
Back in April of 2023, sports.yahoo.com reported, "Planning [the wedding] is not going great" from Farrah's perspective.
Alex and Farrah haven't received any press since then.
Fast forward to July 5, 2023 when Farrah's mom and Mauricio made headlines for choosing to film with one another while their marriage was rocky.
A source close to the show tells PEOPLE that Kyle and Mau "are continuing to work together on screen amid their separation."
Kyle even "filmed for the upcoming second season of her husband's Netflix reality show, Buying Beverly Hills" [which also features Kyle's daughter]. Maybe Kyle is overcompensating since she didn't film with her husband and daughter for their show's freshman season. 
RHOBH and Buying BH wrapped filming in May and July of 2023, respectively.
We better get some answers about what's going down in the Richards/Umansky home STAT!
View this post on Instagram
Do you think 'where there's smoke, there's fire' in regards to the Farrah/Alex theory? Sound off below.
---