Kyle Richards Dirty Deletes Photo With Morgan Wade From Her Instagram Story
Fans have speculated that the IG story was intended to be shared with Kyle's 'close friends' only.
Staff August 5, 2023 2:44pm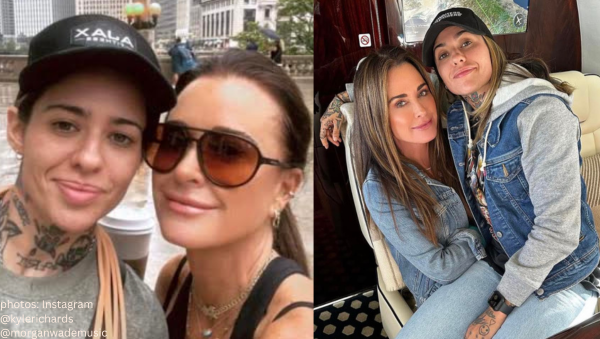 Real Housewives of Beverly Hills star, Kyle Richards, rekindled the rumor she's dating country music singer, Morgan Wade, after dirty deleting a photo of the pair from her Instagram story.
Shout out to Eliza from IG's @FaceReality16 for the screenshot and the info!
"This was posted and taken down within 10ish minutes this afternoon. Kyle's in Chicago to see Morgan's show. She's performing at Lollapalooza tonight! Thank you to the followers with the quick screenshot skills that grabbed this and sent it over!!"
It's how close Kyle and Morgan leaned their faces into one another's that makes me think they are more than friends. It's giving major Evelyn Hugo / Celia St. James vibes, IMHO.
… and Gaylor vibes, too! Swifties- don't come for me! 
View this post on Instagram
Fans have flooded @FaceReality16's comment section to share their opinions of Kyle's dirty delete.
Why would she delete this if they're just friends?

She meant to post that to her close friends. 😂💀

I'm sure she knew enough people would see and screenshot it. Everything is calculated 100%

That pose isn't one for friends that's a chin in toward a lovaaaa

She's doing it for attention & then there will be no mention of it on the show, just proving how stage and stagnant all these shows have become, unfortunately.

It's completely strange for a 54 year old woman to befriend a 28 year old. This is just strange.

I think this is very Scandoval in where we are all so I vested in finding out more and will make sure to tune in next season to watch. Don't get me wrong, I'd watch regardless but this too me seems very calculated and I'm inserting an eye roll here if we don't believe the post and removal of it wasn't premeditated 😂

its giving brawnwyn from RHOC vibes 🤷🏼‍♀️

Sorry but they're dating and you can't change my mind

Kyle doesn't seem to be working on her marriage. 😢. They must be moving on!

I think they're cute together ❤️

Something about Morgan gives off a "if Pete Davidson were a lesbian" vibe to me. 🤔
What's your opinion of Kyle dirty deleting her cozy pic with Morgan? Sound off below.
---