Kim Kardashian's Bleached Eyebrows Overshadow Exposed Derrière On Interview Magazine Cover
Ashley Hoover Baker September 6, 2022 11:42am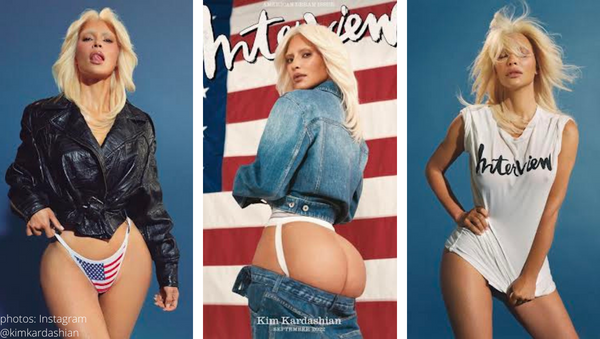 Kim Kardashian was featured in an early aughts American aesthetic for the September 2022 cover of Interview Magazine.
The only thing to overshadow Kim's bleach blonde hair and her exposed derrière was the Keeping Up With the Kardashians alum's bleached eyebrows.
See for yourself…
View this post on Instagram
Trending on Twitter:
Choices were made regarding Kim K.'s latest look, so, naturally, social media did its thing…
Kim K in her new Interview photo shoot pic.twitter.com/IwLLZvsY8I

— TrapMoneyBenny (@bennybobenny) September 6, 2022
As a child of the 2000s, this is what the Kim k photo reminded me of pic.twitter.com/GQEubr2Vzl

— J/R Castro (@jrpuffenstuff) September 6, 2022
Kim K look like the guy from Blades Of Glory.. pic.twitter.com/HFqaEqCCZn

— ALIEN SUPERSTAR (@BreanaRenaeee) September 6, 2022
kim k doing her best to channel gaga in her new interview magazine shoot 🥰 pic.twitter.com/ZjPzOcJU9w

— sara 🧸 (@theclique_blog) September 6, 2022
Kim K as Hedwig!
One is FABULOUS!!!
The other is Kim K. #PoopeusMaximus pic.twitter.com/BOFncjakJV

— Hi from Amy (@amyacc) September 6, 2022
like I seriously thought that Kim K pic was @biminibabes at first!!! pic.twitter.com/ngOR7osRHe

— bradley bon boulash 💙✨ (@airplanebara) September 6, 2022
Kim K is giving Mr. jeffery 😂 pic.twitter.com/x3eMVqxKPE

— Son Zucchi (@ZucchiLife) September 6, 2022
Kim K could never https://t.co/ymwNdRcnsP

— Will Kellogg (@Will_Kellogg) September 6, 2022
What are your feelings on the latest phase of Kim K.'s fashion journey? What does her latest look remind you of? Sound off in the comments.
---