The KUWTK And RHOBH Crossover We Didn't See Coming
Kourtney Kardashian's ex, Scott Disick, was spotted out with RHOBH daughter, Amelia Gray Hamlin.
Ashley Hoover Baker November 2, 2020 1:23pm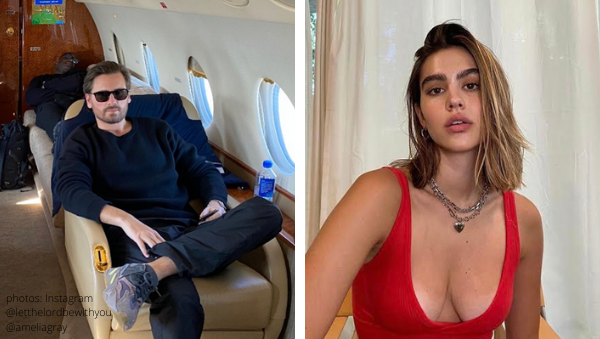 Keeping Up With Scott Disick's dating life….
Kourtney Kardashian's ex/baby daddy was spotted getting out of the same black van outside of a Halloween party as a daughter from the Real Housewives of Beverly Hills.
Scott emerged as the iconic Jim Carrey character Ace Ventura: Pet Detective before entering the soiree solo. Seconds after the father of three entered the party, three scantily clad hotties appeared like rabbits out of a magician's hat and followed Scott into the event.
Unfortunately, the third hottie to be caught on camera was RHOBH star Lisa Rinna's daughter, Amelia Gray, who was not recognized by the photogs.
Amelia, spawn of the lippy QVC influencer and Hollywood actor Harry Hamlin, is a model with Women 360 Management New York.
Isn't Scott with ______? (Insert starlet's name here):
Life & Style provided a friendly reminder of Scott's dating life from the last few months, in case keeping up for you is as challenging as it is for me.
"Amelia is the third woman Scott has been seen out with since splitting from ex-girlfriend Sofia Richie in August. An insider previously told Life & Style Scott has been 'playing the field' since splitting from the model after nearly three years together. He has been spotted out with former flames Bella Banos and Megan Blake Irwin, and isn't 'settling down with anyone' at the moment.
What about Amelia's boyfriend?
Rinna's youngest daughter was in a relationship with Mercer Wiederhor, which Amelia revealed in August 2019; however, it looks like the couple may have split. There have been no recent posts of the couple on social media in a while….
View this post on Instagram
Watch the paparazzi footage for yourself!
Too much Kardashian family drama to keep up with?
Don't worry! The Taste of Reality podcast network has your back. Check out the Kar Dishin It podcast for the latest Kardashian/Jenner recaps, news and gossip.
Do you think Scott and Amelia are dating or do you think they are just friends? Drop your opinions off in the comments!
---