Dynasty Icon Joan Collins Is 'Unapologetic' Over The Kardashians' Plastic Surgery
"There's an awful lot of surgery there."
Ashley Hoover Baker October 2, 2021 10:47am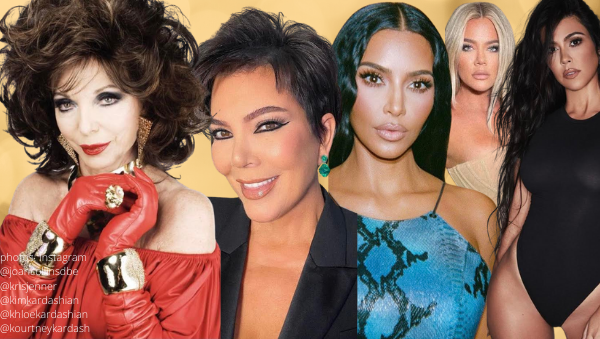 From the show Dynasty to a reality tv dynasty…
Joan Collins, the seminal star of the 1980's nighttime soap opera, Dynasty, penned a memoir, My Unapologetic Diaries.
It appears that 'unapologetic' may be the operative word…
Famous friends:
Sure, the legendary actress may be good friends with Kris Jenner, (never forget Kris and former RHOBH star Yolanda Hadid's Dynasty photoshoot tribute) but that didn't stop her from her sharing her uncensored thoughts about the evolving appearance of Kris' daughters.
"We all talk about it. Have you ever been in a hairdresser's?"
Real-life Alexis Carrington:
"Kris Jenner, their mother, is a good friend of mine and I don't want to be rude about her children [Kim Kardashian, Khloe Kardashian, and Kourtney Kardashian], but there's an awful lot of surgery there and I've talked to my friends about it, as I'm sure you have, the bottoms, the tiny waists."
How it started:
The Dame who doesn't give a damn didn't start her rant with the Kardashians, but with her real-life nemesis, Linda Evans.
"Are you supposed to ignore somebody when they come in with tape on their eyelid?"
"Every one of the other actors was saying, 'What do you think she had done?'"
Not afraid of cancel culture:
Alexa, play How Many F*cks?
"A lot of the books today that are supposed to be good are not entertaining and, quite frankly, I want to be entertained. I do not want to be preached at by do-gooders and wokers."
Well, there you have it.
Check out Zachary Reality for the latest from the Kardashian/Jenner family, Bachelor Nation, and beyond!
Do you think Kris will be upset when she reads what her friend said about her daughters? Drop your opinion off in the comments!
---