Jen Shah's Cousin Creates Go Fund Me To Raise $2.5M In Legal Fees For RHOSLC Star
"We are asking 10,000 caring souls to donate $250."
Ashley Hoover Baker May 31, 2021 5:43am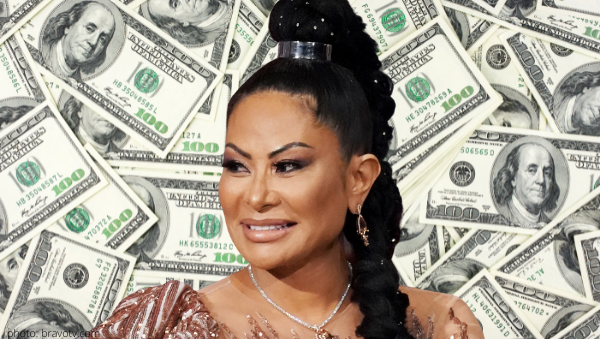 The Jen Shah legal saga keeps getting juicier…
The controversial star of the Real Housewives of Salt Lake City's cousin, Danny Filipe, started a Go Fund Me fundraiser called 'Justice for Jen Shah' to raise $2.5 million for his cousin's legal fees.
In case you missed it, the RHOSLC star faces up to 50 years in prison on wire and fraud charges.
Innocent until proven guilty:
"I created this Go Fund Me Campaign to help my loving cousin Jennifer Shah raise $2.5 million dollars for her legal fees. Each year in the United States, more than 10,000 people are falsely accused and wrongfully convicted of crimes they did not commit.  This statistic demonstrates the government makes painful mistakes. Simply because you are charged with a crime, does NOT mean you are automatically guilty."
"On March 30th, lawyers from the Southern District of New York brought extremely serious allegations against my cousin. On April 2nd, Jen proclaimed her innocence by entering a plea of 'not guilty,' and hired an experienced team of New York lawyers that have begun aggressively defending her and fighting the government's case."
View this post on Instagram
The request:
You and your 'caring soul' are going to want to sit down for this…
"We are asking 10,000 caring souls to donate $250. Jen is facing decades incarcerated in prison separated from her family if she is unable to mount a competent and well-thought out defense."
Here's the breakdown.
"Jen needs $2.5 million dollars because:1) there are over 1 million documents in this case that must be immediately reviewed and analyzed by Jen's lawyers before her case goes to trial in October 2021; 2) the Southern District of New York is the most expensive jurisdiction in the country to defend a lawsuit, and to hire competent legal counsel; 3) Jen has to have the economic wherewithal to fight the government's lawyers, who have an open checkbook and can spend millions of dollars prosecuting this case; and 4) by defending this case and going to trial, Jen's family has and will continue to spend hundreds of thousands of dollars in legal costs, which includes hiring investigators to interview potential witnesses, hiring experts in various fields (economists, accountants, jury consultants, forensic computer and data analysts, etc.) and paying for hundreds of hours of legal research, trial exhibits and witness binders, etc. In seven weeks, Jen and her family have spent over $138,000 in legal fees and costs. My family is asking for your help for Jen and the Shah family."
Brace yourself- it gets more bizarre:
"Being the oldest of 6 children, Jen has always naturally taken care of her siblings and extended family. She has also constantly given back to her community by sitting on the board for the National American Tongan Society, which her late father founded in 1994, she is a member of the Yalecrest Anti-racism Committee, she is an avid supporter of Encircle (a nonprofit organization helping Utah's LGBTQ community), Jen mentors minority women in business, and JXA, Jen's fashion company, donated masks throughout the pandemic to hundreds of frontline workers and multiple healthcare facilities across the state of Utah."
"For those of you who truly know my cousin, you know that she is an exceptionally kind mother, wife, sister, aunt, cousin, and friend. Her oldest son graduated from college, and is applying to medical school; while her youngest son is a 10th grade honor student. Jen, who was an honor student as well, graduated and met her husband in college. She has been married for 26 years."
Cousin Danny's final request:
"Forover [sp] 40 years, I have experienced her generosity many times toward me, my family and many others. Now during this time of great need, I am asking you to please help her and her family as they have helped so many of us. Jen needs the financial sustainability to present her case and evidence so that she does not become one of the 10,000 people that are wrongfully convicted.
We will use the money we raise to exclusively pay for Jen's attorney fees and legal costs. We are deeply grateful for any money you are able to give Jen and her family during this incredibly difficult time."
A friendly FYI:
At the time this article was written, the fundraiser has been live for 11 hours. There was one donation of $250 made anonymously five hours ago.
Only 9,999 more caring souls need to donate to help meet the goal.
Bravoholics react:
Jen Shah is shady, but the internet is shadier.
Fans of Bravo's latest Real Housewives franchise didn't hold back when it came to collecting funds for her legal fees.
A Reddit user found humor in the situation. "I don't know what's funnier … that they're trying to raise $2.5M or that the page says 'Be the First to Help' because no one has donated 🤣🤣."
Another wrote, "🤣🤣🤣 So, basically, the premise of this whole thing is that since Jen was on the honor roll in middle school, and she gave her family members money she stole from unsuspecting elderly folks rather than keeping it all for herself, we should be kind enough to give her money that we earned to help keep her stupid ass out of jail?? Nope, f*ck right the f*ck off, Jen."
"I don't even think she has the option to sell her stuff And we all know the Fraud squad is going to be all over this campaigning to save her 😂," posted another skeptic.
A great point was made by an Instagram user who noted "But she can get that 2.5 million by selling her jewelry, bags and clothing …."
Another joked, "I love that she's pretending to be her own cousin now 😂."
-I legit thought the same thing. I also believe Jen is the first (and only) donor.-
Want to stay up-to-date on all things Bravo and beyond:
Check out the Pink Shade podcast for the latest news and gossip from the reality tv world as well as hilarious recaps. Here is the most recent episode.
What are your thoughts on the Justice for Jen Shah Go Fund Me fundraiser? Sound off in the comments!
---