Hayden Panettiere Details Custody Battle 'Wasn't Fully My Decision'
"The most unselfish thing that I could do was to make that hard decision."
Imani Craig September 29, 2022 6:37pm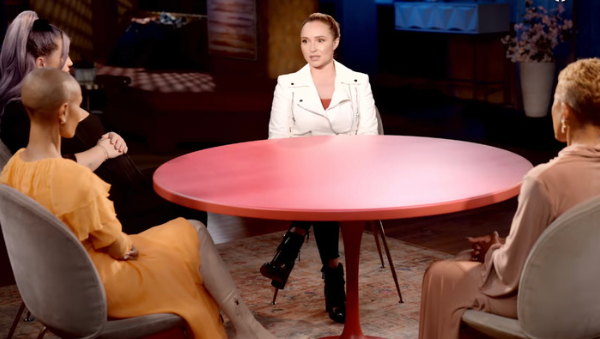 Hayden Panettiere pulled up a chair and bared it all on Wednesday's newest episode of Red Table Talk.
The Nashville alum sat down with hosts Jada Pinkett Smith, Adrienne Banfield-Norris and guest host, Kelly Osbourne, to talk motherhood, addiction, and her tumultuous past in Hollywood.
September 28's episode was the first time Panettiere publicly addressed her polarizing custody arrangement.
"I didn't want to piss off the person who has control over my child," Panettiere said.
Hayden Panettiere and ex Wladimir Klitschko dated off and on for over a decade. However, the pair ended their engagement in August 2018, and decided to coparent their now 7-year-old daughter, Kaya Klitschko.
After giving birth in 2014, Panettiere suffered a serious bout of postpartum depression. With her history of alcohol and opiate abuse, her depression worsened. Ultimately leading to losing custody of her daughter.
"It wasn't fully my decision. In fact, I didn't even know what was happening until she was over there [Ukraine]," Panettiere said.
Kaya has been living in the Ukraine with the former pro-boxer for the past 4 years, and has not returned to California since. Because of the male-dominated culture and Klitschko's brother being Mayor, Panettiere knew there wasn't much she could do to fight the custody arrangement.
Over the years, Panettiere has been accused of being a  "bad mom" for "giving up her daughter." However, she says it was one of the most "heart-breaking decisions" she's made. Once her daughter left, she had to seek treatment several times.
Although she hasn't gotten "any hints" the arrangement will change, Panettiere is hopeful.
As Kaya grows older. she knows how important it'll be to be around her mom.
"Kaya's going around asking other women if she can call them mommy," she shared.
In the meantime, Panettiere is taking steps to better herself in preparation for the day her daughter returns to her.
"There's something really freeing about just being yourself."
You can watch Hayden's full interview below or here on Facebook!
---