GG Gharachedaghi Believes She Is On A "Different Level Than" Lala Kent
The former Shahs of Sunset star, "would never put my child in" the situation Lala has put her daughter in.
Staff November 21, 2023 11:58am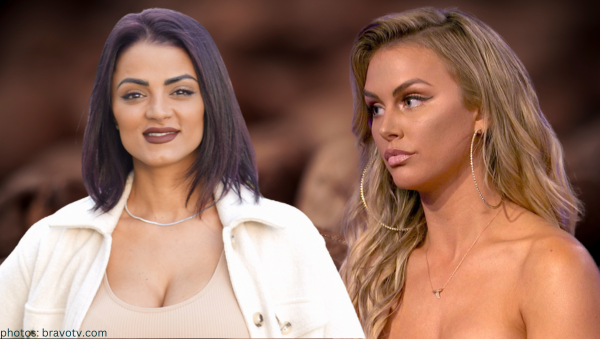 Golnesa "GG" Gharachedaghi didn't hold back from mom-shaming Lala Kent at a Bravo TV fan event hosted by Zach Peter.
The former Shahs of Sunset has beef with the outspoken Vanderpump Rules star … and here's why.
GG began by saying, "I think the whole world saw a lot with the whole Randall situation," in regards to Lala's character.
"I think she had her truth, but her truth was just put on a weird display."
That's when the initial feud began between the Bravolebrities.
"I had an opinion about [Lala's situation with her baby daddy, disgraced movie producer Randall Emmett]."
"I said, 'Your child is only going to suffer from this.'"
GG elaborated, "Then I became the enemy all of a sudden."
She didn't stop there.
GG believes Lala "has this whole situation – she has an ego complex. She needs to get off her high horse."
A step in the right direction for Lala – according to GG – would be to switch hairstyles.
"Stop with the tight pony tails. I really don't know where the eyes are going at this point."
"I can't. They got tighter and tighter."
After encouragement from the audience, GG reiterated, "I'm not a fan. I wish her well, though."
This is when the gloves came off, imho …
GG expressed her superiority over GG.
"I'm older than [Lala.] I'm on a different level than her."
She condescendingly added, "I'll teach her!"
In an effort to restore some degree of peace between GG and Lala, Zack asked if there's a way she could bond with Lala over motherhood.
"No," GG responded.
"We don't have anything in common because I would never put my child in that situation … to create her father as being an enemy. I would never do that."
View this post on Instagram
Do you agree with GG or was this rant too much? Drop your opinion below.
---