Bravo Baby News: Shahs Of Sunset's Golnesa 'GG' Gharachedaghi Gives Birth And Gigi Hadid Is Pregnant
Congratulations to GG and Gigi!
Ashley Hoover Baker April 29, 2020 6:38am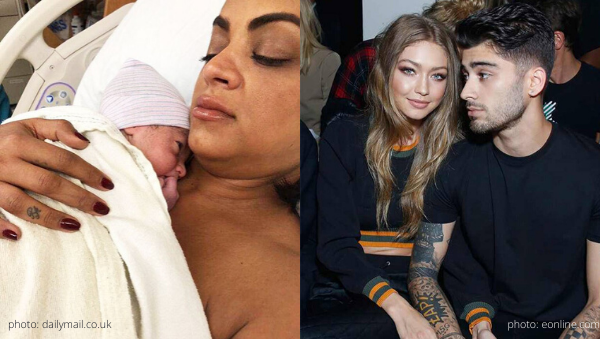 The Bravo universe is growing! This is the good news we needed…
Shahs Of Sunset's Golnesa 'GG' Gharachedaghi gave birth to her first child the same day former Real Housewives of Beverly Hills daughter, Gigi Hadid, announced she is pregnant with boyfriend, Zayn Malik's first child.
Congratulations to first-time-mom, GG, and soon-to-be first-time-mom, Gigi, from the Taste of Reality team!
GG:
The fiesty star of Shahs of Sunset took to Instagram to share her bundle of joy with the world. "WELCOME TO THE WORLD ELIJAH!!! ❤4/27/20❤."
Elijah Javad Gharachedaghi was born at 8:50 p.m. on April 27th, 2020 weighing 6.5 pounds and measured 19.5 inches.
GG's rep, Steve Honig, confirmed that the delivery went very well. "Everyone is doing great and Golnesa is beyond excited to be a mom and start this new adventure."
View this post on Instagram
Bravolebrities react:
The SoS cast is thrilled for the first time mama. Mike Shouhed wrote, "I can't wait to meet my nephew! So glad that mommy and baby are doing well. Sending lots of love ♥️," on GG's IG post. "Can't believe my lady is a Mama! We love love love u! Can't wait to hold baby Elijah! He's gonna have the best guncles! 👨🏻👱🏻‍♂️♥️👩🏻👶🏼," wrote villain Adam Neely.
Reza Farahan yelled, "WOW WOW WOW WOW WOW!!!! WE LOVE YOU AND ELIJAH VERY MUCH! 😘😘😘😘😘😘😘😘" while Destiney Rose posted, "JOOOOONNNNNNN. This is what TRUE LOVE is 💙💙💙 the strength it takes for women to have children is unbelievable🙌🏽 MASHALLA
Your prince has arrived !!! BLESSINGS ON BLESSINGS 🙏🏽❤️😘😘😘😘😘😘😘😘😘😘😘."
Gigi:
Yolanda Hadid (Yolanda Foster while she was on RHOBH) is going to be a grandmother according to reports from TMZ! Supermodel Gigi Hadid, "The 25-year-old model is 20 weeks pregnant — meaning she is halfway through her pregnancy. This is the first baby for both Hadid and Malik."
The statuesque beauty and the former One Direction member began dating in 2015, but broke up in 2018. Rumors spread that the genetically blessed pair were on-again in December 2019 and were first spotted back together in New York in January 2020.
Gigi and Zayn were spotted at New York hot-spot Eleven Madison Park for his birthday on Jan. 12, and they have been inseparable ever since.
The couple is currently quarantining together at Gigi's family's farm in Pennsylvania and have yet to make a formal announcement.
Fans react:
Fans of the couple took to Instagram to share their thoughts on the news, "That's gonna be one beautiful ass baby Lord 😩," wrote a follower, while another said, "That is going to be a GAWGEOUS child! 😍."
Need more Shahs of Sunset in your life?
Check out the On This Day Entertainment podcast for weekly recaps and breakdowns of the show. Kyle from @therealhousewivesorders on the 'gram joined me on the season 8 penultimate episode to 'dish' (pun intended) on Bravo's best eaters' bizarre luau, Reza's other white meat, Nema Vand's too white of teeth, Mercedes MJ Javid's meddling, GG's journey to motherhood, the insane food orders from this season, and more! In case you'd like to listen…
Are you as excited to see these families grow as we are? Drop your well wishes for GG and Gigi off in the comments!
---