Erika Jayne Gets Dragged For Trash By Alaska And Willam For Backhanding Queer Community
The RHOBH star "is trash. She is not welcomed in our community."
Staff October 16, 2023 2:14pm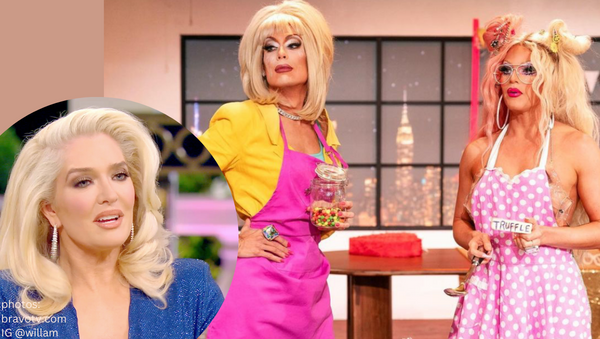 Real Housewives of Beverly Hills star, Erika Jayne, was called out for bad business practices by RuPaul's Drag Race favorites Alaska Thunderfuck and Willam on the Race Chaser podcast.
Alaska, who won the second season of RuPaul's Drag Race All Stars, went off on the controversial Real Housewife for her disrespect of the queer community.
Erika Jayne "tried to fuck over the LGBT icons who helped put her where she was."
Evidence of Alaska's case lies, in part, to the designers Erika didn't use for her Las Vegas residency show, Bet It All On Blonde.
"If you look at her costumes in the show, you can tell they're NOT made by Perry Meek. They're not made by Marco Marco. They're not made by Johnny Wujek. They're not made by any of the people that are really skilled in that area."
"It makes one wonder," began Alaska. "Why won't anyone work with her anymore?"
"It's because she's backhanded our community."
"It's funny on the Real Housewives of Beverly Hills teaser she's saying, 'You know you can buy a nude bundle of pictures of Denise Richards on OnlyFans for $7?"
"What's even funnier is that her ticket prices for her [Vegas residency] shows were only $7," joked the Your Makeup Is Terrible singer.
"Now, they've gone down to $1 for her Bet It All On Blonde show. One dollar."
Getting even shadier, Alaska called Erika out for giving complimentary tickets out and still not filling Vegas's House of Blues.
"They gave free tickets to the teacher's union of Clark County in Las Vegas and it still wasn't a full house because even the teachers have taste and they knew they didn't want to bitch in Leg Avenue and Lip Service (the shade!) costumes prancing about a Vegas stage."
"She is trash. She is not welcomed in our community."
"Her music was never good. We accepted her because she was fun and frothy and she paid her own bill to get to the parties where she performed at and took a jet."
Erika "was never worthy of our appreciation other than her cattiness and her good blonde hair and face done by Frank Velasso and Scott Barnes."
"I saw her treat her shampoo girl like shit," revealed Alaska.
"I hope [Erika] gets exactly what she deserves in the coming months. I hope everybody knows what kind of person she is. Period."
"Don't root for Erika Jayne," concluded Alaska.
View this post on Instagram
That, my friends, proves why reading is fundamental.
What's your opinion of Alaska's hot take on Erika Jayne? Sound off below.
---