Erika Jayne Delivers Lackluster Las Vegas Residency Performance With Bet It All On Blonde
Diamond or cubic zirconia?
Ashley Hoover Baker September 5, 2023 4:15pm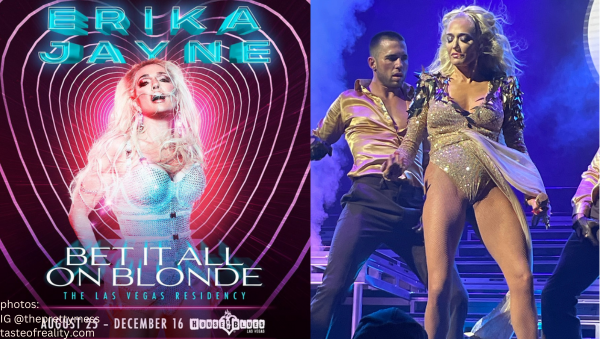 I attended the Erika Jayne Bet It All On Blonde Las Vegas residency show so you don't have to.
House of Blues LV is known for giving local teachers complimentary tickets to shows that are underperforming at the box office.
When free tickets to see one of the Real Housewives of Beverly Hills became available, one of my educator girlfriends knew I would be the perfect partner-in-crime for a night out on the town.
Although complimentary tickets were available for all three nights (yikes!), we chose to go on the Sunday night before Labor Day. The show began at precisely 8:30 as promised, which I appreciate!
At about 25% occupancy [according to my non-scientific analysis],  I'm guessing the majority of the audience was there thanks to freebies gifted to Clark County School District employees.
The crowd was filled with about a dozen die-hard Pretty Mess stans, but the majority of the crowd appeared as if they were in the wrong venue.
Tickets range from $94-$194 (including taxes and fees) in addition to parking at Mandalay Bay which costs $15-$23. The event's specialty cocktails, Pretty Messarita and Painkillr, were priced at $23 and came in a collectible HoB shaker cup.
High-quality background vocalists, backup dancers, and wardrobe help the RHOBH diamond holder shine through a mix of original and cover songs, including Madonna's Material Girl, which acts as the show's opener.
Bravoholics were served EJ's original bops, XXPEN$IVE and How Many Fucks?, as well as Donna Summer's Bad Girl and Le Freak by Chic. I have to say, the songlist slapped and Erika sang live the whole show.
For my fellow old-school CelebReality TV fans, I got major Brooke Hogan on Hogan Knows Best vibes. Never forget the iconic WWE wrestler paid thousands upon thousands of dollars for his daughter to train for a pop music career. Brooke had a successful debut album – thanks to her family's popular reality show – but was dropped by her label after the release of her sophomore album … and the cancellation of the show. Replace Hulk Hogan's wallet with Tom Girardi's and here we are. 
Erika – who credits her recent weight loss to menopause – performed in front of a screen that displayed photos and videos of her pre-menopause body making fans comment on how much weight the Real Housewife recently lost.
I also overheard murmurs from concertgoers noting Erika's costume changes were longer than Beyoncé's, which I have to agree with.
Speaking of Queen Bey …
Unfortunately for Erika, I saw Beyoncé's Renaissance Tour a week earlier, so I couldn't help compare the two shows.
As unfair as this feels, I paid slightly more for a Beyoncé ticket than the cost of the cheapest seat for Erika Jayne. Since both shows share a comparable price point, here's my opinion.
Super fans of Erika will most likely love the show, while fairweather fans of RHOBH will quickly tire of Erika's stiff moves and whiny tone.
I could recommend the residency show if it was $20, but if you're dropping at least a C note on a night out, this isn't it.
For under $100, your money and time can be spent more wisely than Bet It All On Blonde.
I recommend KA which starts at $69 or Mystere which starts at $70. But, if you have 'fuck you money' and some free time, I'm confident Erika Jayne would appreciate your attendance.
Would you pay to see Erika Jayne in concert? Sound off below.
---