Watch Canada's Drag Race Entrances Here
The Queen's first looks are nothing short of an "Eh-laganza Eh-xtravaganza."
Ashley Hoover Baker July 3, 2020 10:51am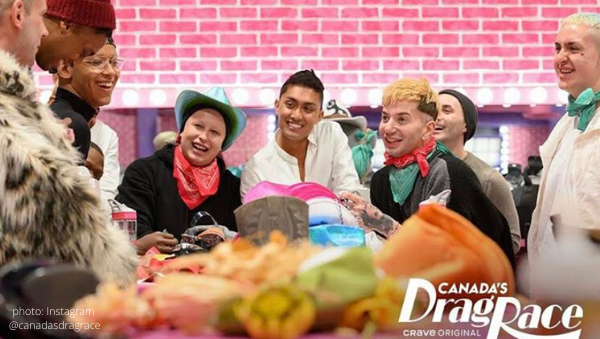 Eh, kitty girls!
In case you haven't been able to feast on the first ever Canada's Drag Race which airs on WOW Presents Plus in the US and select territories, here's a little tease to hold you over. (Here's a full list of ways to watch!)
Who's Who?
Goldderby.com recapped the premiere episode to hold us Americans over for the next several days. "Priyanka was first to arrive, screaming with excitement. She was followed by self-described "f**king bitch" Ilona Verley, the sultry bilingual Kiara, an 'angelic' Juice Boxx, worldwide pageant queen Anastarzia Anaquway, the expectedly all yellow Lemon, 'circus freak' Scarlett BoBo, the young 'queen of social media' Kyne, the 'bitch on arrival' BOA who the other girls know to have a bad reputation, Rita Baga the 'big deal' from Montreal, the 'run of the mill' weirdo Jimbo, and the confident and fashionable Tynomi Banks."
The hosts of Canada's Drag Race:
Decider.com reported, "While RuPaul's presence is very much felt in the show, she's not the host or a judge on this spinoff. That role is filled by a trio of hosts: model Stacey McKenzie, actor and frequent Drag Race guest judge Jeffrey Bowyer-Chapman, and Drag Race Season 11 runner-up Brooke Lynn Hytes."
Watch the entrances for yourself!
This is not a read…just an question:
Is it just me, or does it look like the 'season one filter' was used for recording Canada's Drag Race?
Did you happen to catch CDR's official preview?
Don't worry. I've got you! Prepare to gag….
Need more Drag Race in your life?
I feel you sis.
Check out the Alright Mary podcast for hilarious breakdowns of RuPaul's Drag Race and more! Here is the most recent episode.
In your opinion, which of Canada's Queens made the best first impression? Drop names in the comments!
---