Diana Jenkins Deletes IG Account After Garrett Morosky's Threesome Claim Involving Two RHOBH Women
Staff November 18, 2023 10:25am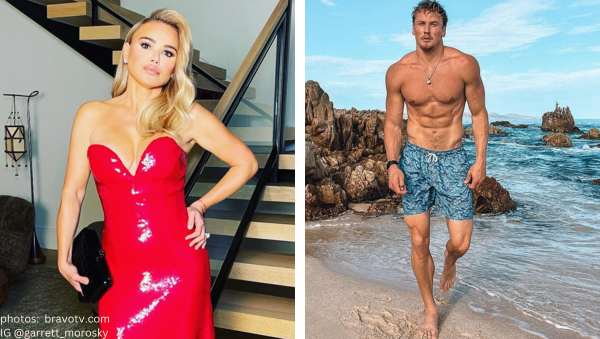 Just so you know, everything you are about to read is alleged.
The source is a 'fboy' (literally) who starred in season one of Netflix's FBoy Island.
Let's get to it to the ruuuuuuuhh-muuuhs and nastiness, as Meredith Marks would say!
FBOY Island's Garrett Morosky claimed on that he had a threesome with two women from RHOBH.
Allegedly, the woman's husband came home to find Garrett jumping on the family's trampoline with their kid.
The HouseHusband even hired a goon to threaten Garrett to keep him away from his home and family.
Shout out to Instagram's @TenderLovingCarePodcast who posted intel about the content of former Real Housewives of Beverly Hills star, Diana Jenkins' IG page.
They posted, "Diana Jenkins has blocked us, otherwise we would post the videos of her on her trampoline that she loves to jump on."
Like any other high-quality journalist (insert laugh track), I stalked Diana on the 'gram only to learn she's not there.
The one-season RHOBH star has deleted her Instagram account!
View this post on Instagram
Again, all of this is alleged.
My initial theory was that it was Dorit Kemsley as she has kids that are 'trampoline-age.' Plus, PK seems the type to hire a goon to threaten his wife's paramour, but that's my opinion.
Dirty Diana deleting her Instagram account (which had trampoline content on it) makes the plot thicken, for me at least.
But, I don't see Diana's husband, Asher Monroe, getting all Godfather on anyone.
That's when I dug a bit deeper into Diana's life pre-Asher.
I investigated (googled) Diana's first husband, Roger Jenkins, with whom he shares two adult children with Diana.
Roger is a "British financier and former international athlete. He is the brother of … former convicted drug runner, and informant David Jenkins."
Does Roger's brother's life of crime have anything to do with Roger? Not necessarily. I'm just pointing out that the Jenkins family has been involved in some unsavory activity over the years.
Do you believe there is truth to Garrett's threesome claim? If so, do you have a theory as to which Real Housewives he boned? Drop names below!
---