FBoy Island's Garrett Morosky Alleged He Had A Threesome With Two RHOBH Stars
One of the husbands found out and threatened Garrett!
Staff November 17, 2023 10:45am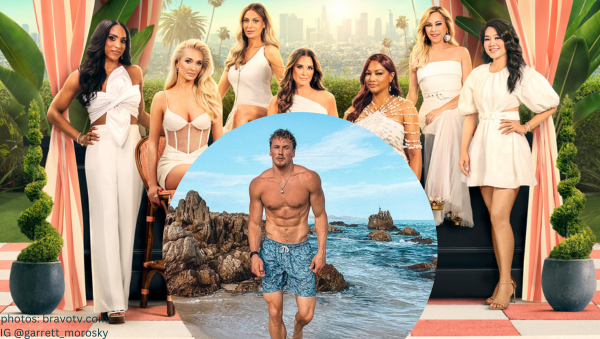 Bless this Beverly Hills mess.
Garrett Morosky, ALLEGED he had a threesome with two of the Real Housewives of Beverly Hills cast.
The FBoy Island alum didn't give names, nor did he mention if they were current or past cast members … but we did get some clues!
During an episode of Marco Delvecchio's podcast, Garrett shared an ALLEGED story he's never shared before.
"Did I tell you I smashed two of the Beverly Hills housewives?"
"Her and one of her friends who's also on the show."
"Midday, In her husband's bed," the Netflix star continued before adding, "I shook their husband's hand afterward."
This is the best clue, imho, of who one of the BH housewives it may be …
"Then after that I went out back and was jumping on a trampoline with her kid and stuff."
Of the current cast, the only two women who have kids that have trampoline-age kids are Dorit Kemsley and Crystal Kung Minkoff, just saying. But, again, they may be former RHOBH cast members.
Let's continue with Garrett's story …
The athlete/investor shared, "Her husband shows up and comes over. I'm like, 'What the fuck do I do?'"
The housewife advised, "Just say you're a real estate agent coming over to check out the house."
"At the time I was doing some real estate so I was like, 'Ok, cool.'"
I got a text message from him [the Real HouseHusband of BH] saying I'd love to meet you. Come meet up with me in Beverly Hills."
"I want to chat. I might have some stuff for you," offered the husband.
Garrett goes to dinner with the RHOBH star's husband and another person that looked like "he's in the Secret Service."
"He's like, 'If you ever come around my family or my kids ever again, my buddy here will take care of you."
View this post on Instagram
Based on the trampoline Easter Egg and the fact that the husband hired a goon to threaten the fuckboy, my money is on Dorit and PK.
Again, everything you read is ALLEGED and this is just my shady theory of who the husband and Real Housewife in question are.
Do you think my theory has legs? Do you think it was a different housewife, perhaps of the past? Drop names of who you think may have had a threesome with Garrett in the comments.
---