Destiney Rose Dishes On What's To Come On This Season Of Shahs Of Sunset
Get an inside look at the feud between Reza Farahan and Mercedes 'MJ' Javid.
Ashley Hoover Baker March 12, 2020 12:23pm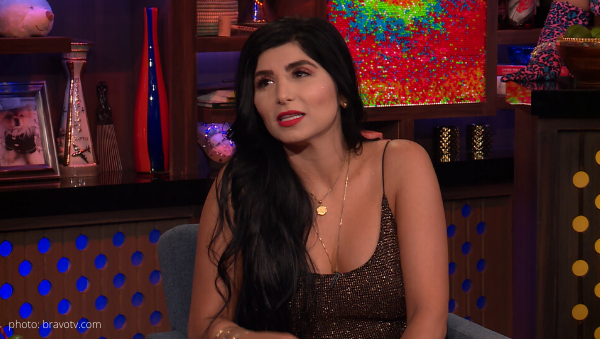 "It's a roller coaster ride and I don't like roller coasters."
Destiney Rose dishes on what's to come on this season of Shahs Of Sunset, including the feud between Reza Farahan and Mercedes 'MJ' Javid. The Persian princess spoke with TooFab.com to spill the tea on what's still to come this season on Shahs.
"I'm uncomfortable, I will say that," the outgoing Bravolebrity explained regarding the scandal between Reza and Adam Neeley and MJ and Tommy Feight. "The reality is, I had to say what I needed to say. I do regret certain things, absolutely I'm human. I make mistakes. Crucify me, I'll take it."
Destiney on Naked Jenga:
In case you were wondering how Destiney felt after the Naked Jenga saga between Adam and Ali Ashouri, she spilled her tea with TooFab. "No one really wants to be in that situation" and was shocked when she first saw the texts from Adam. "There's so many layers to this and it's hard for me to kind of figure everything out …. but what sucks is how it all happened," the single-and-ready-to-mingle hottie explained. "There's ways to communicate, there's ways to handle certain situations but we don't have a pamphlet on how to go through certain situations."
Destiney on telling Reza about Naked Jenga at his own party:
The Shah explained it was "the worst thing you can do," saying it was a "gross" move on from her end.
Destiney feels she was stuck between a rock and a hard place. "It's damned if I do, damned if I don't," she detailed. "I've never delivered bad news to anyone, it's not my thing. It was just all bad. If I could take things back, I would, I would completely switch a lot of things up. Unfortunately, it plays out the way it did."
"A lot of people got hurt and we're still dealing with it," she explained.
Destiney on the meet up between Reza and Ali:
"The energy was insane" at the restaurant when she attempted to clear the air between her friends. "I was like shaking," she remembered, "How it all went down, thank god I was there to stop what was going on. If not, when you're hurt, you sometimes black out. [Reza's] hurting, this is something you don't take lightly and it sucks how everything went down."
Destiney on the upcoming showdown between Reza and MJ at Sara's pool party:
The fight between the former BFFs was "so intense that I wanted to take off my wig …and you don't ever want to take off your wig, because you have wig flat hair!"
"It was so dark and deep," she added of the confrontation. "You guys are gonna feel it, you'll know what I mean. It's so intense and it's sad, it's a 30 year friendship."
Destiney still believes, however, "everything's gonna work out" between the two former friends. She also has a feeling her positivity may "[bite] me in the ass" come reunion time, which is a safe bet.
She also promised the season isn't all disagreements and feuds, as the rest of the season will focus on Golnesa 'GG' Gharachedaghi's "pregnancy journey, her and Reza's business ventures and a trip to Arizona where something crazy happens," according to TooFab.
In case you'd like to see the interview for yourself, here ya go!
If you stan the Shahs of Sunset as much as I do, you should check out the weekly breakdowns of the show on the On This Day Entertainment podcast. Here is the most recent episode!
Do you think Destiney creates the drama or tries to settle the drama? Spill your tea in the comments!
---