D'Andra Simmons Spills The Tea On The RHOD Cast, Dallas' Dating Scene, And Mama Dee
Ashley Hoover Baker December 22, 2020 12:03pm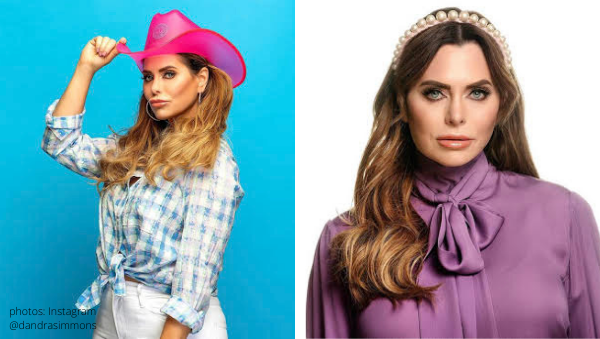 "I started from a Dallas dynasty, but I'll finish with my own empire."
D'Andra Simmons joined S'More Date creator Adam Cohen Aslatei on episode 45 of S'More Live on Instagram to chat all things from dating to the Real Housewives of Dallas and beyond!
ACA- What's your craziest dating story?
D'Andra is no stranger to playing games.
"I was engaged over 12 times. I love to get the ring- it was like a big challenge for me. So I love to get the ring and then I don't want the guy anymore. I was kind of bored because I had already won."
Did you keep the engagement rings?
"Some of them I did, and then some of them my mother had to give back. My poor Mama Dee!"
D'Andra dished that one of her engagement's ended when she unexpectedly moved to New York and had her mom do her dirty work and break up with the guy.
How did you go from working in DC for the Bush administration to becoming a Dallas entrepreneur?
Though becoming a lobbyist was on D'Andra's trajectory, that changed when her mother called for help with the family business. As RHOD fans witnessed, Mama Dee was ready to retire, yet her need to be "in control" made the transition, well, good for tv….
The 'Hard Night Good Morning' skin care creator detailed how she "felt a lot of pressure" regarding moving into an entrepreneurial role since there are so many already in her family. "I was very artsy growing up, so I was the antithesis of everyone else."
We were reminded that D'Andra grew up "dirt poor" and is not a trust-fund kid.
How did you meet your husband?
"I met him at a bar," D'Andra giggled to Adam. While on a business trip, the strangers met at a Hilton Garden Inn's hotel bar. Her now-husband, Jeremy Lock, was with a group of photo journalists. When the guys offered to buy her glass of wine, D'Andra declined- until she saw Jeremy.
The rest is history.
What are your feelings of LeeAnn Locken not returning to RHOD?
D'Andra simply said, "I think it was the right decision for Bravo."
Do you have any regrets on your part?
"Not really. No. I was truthful and honest the entire time." D'Andra continued that others didn't like that she stayed true to her "authentic self."
"I stay true with whatever I do on the show- whether it's good or bad- my mouth is not filtered."
What are the best and worst parts of being on the RHOD cast?
"The worst part is the stress during filming and then reliving it during reunion because there is a lot of drama. You have to have thick skin."
On the flip side, "The best is having people reach out because they relate to your story; they want  advice. They're going through something with their mother or their husband, or their business and they appreciate you sharing with them your experience."
Who would you like to see removed from the cast?
"Honestly, they've all been removed that I would have removed. There's two they got rid of that I didn't care for and they're gone. So, I think that this year we have a great cast and I don't think anybody should be removed."
She continued, "They've taken out the toxicity, and now we have drama- but we have real friendships and we have real stories."
If you could add anyone from any other Real Housewives franchise to the Dallas cast, who would it be?
D'Andra loves the East Coast housewives…
Real Housewives of New Jersey's Margaret Josephs or Real Housewives of New York's Dorinda Medley.
I don't know about you, but I'm HERE for D'Andra's choices!
How's your relationship with your mother and did she really leave you a business that was bankrupt?
"Yeah she did. It had nothing to do with me. It had to do with her not paying attention for so long. Some of the people she had trusted should not have been trusted."
D'Andra elaborated stating that once she "cleaned house," Mama Dee really came through for her. "We're in a good position now."
D'Andra's advice to women:
This is solid advice…
Her recommendation was for women to be at the financial level as the men they want to attract.
Don't ever stop working. "Have your own money."
Watch for yourself:
(I gasped when I learned which RHOD cast member's family member D'Andra used to date…)
View this post on Instagram
In case you missed the season 5 RHOD trailer, here ya go!
Want S'More?!
Check out the Love is Blind experience for yourself and get the S'More app here!
Are you shaken by any of the tea D'Andra spilled on S'More Live on Instagram? Drop the juciest moments in the comments!
---