Dancing With The Stars Partners Daniel Durant And Britt Stewart Are Dating!
The couple made their relationship Instagram official on Valentine's Day.
Ashley Hoover Baker February 15, 2023 6:16am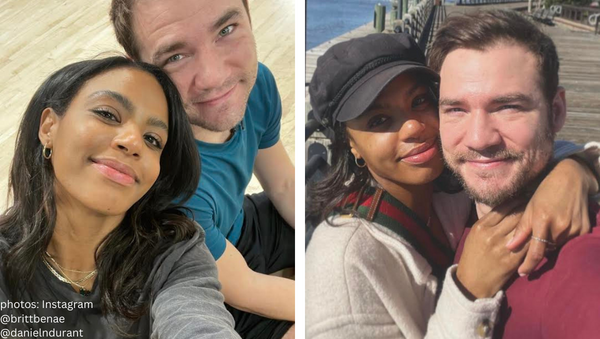 Love is in the air with Dancing With the Stars season 31 partners Daniel Durant and Britt Stewart.
The lovebirds made their relationship Instagram official on Valentine's Day.
Daniel posted a pic of the DWTS31 team canoodling on the boardwalk while Britt shared a video paired with the song Fall In Love With You of herself with Daniel. Both included emoji hearts in their captions.
View this post on Instagram
View this post on Instagram
Reactions:
It's safe to say that I'm not the only person who is hard-core shipping Britt and Daniel already. Check out what their Dancing With the Stars family had to say …
Daniel's celebrity friends are thrilled for the CODA actor.
Wayne Brady must have yet another talent- clairvoyant. "I knew it!!!!! ❤️❤️❤️❤️Congrats!" Same with singer Jordin Sparks who can add relationship whisperer to her resume. "I KNEW IT! Instantly. 🤍🤍🤍🤍🤍🤍🤍🤍🤍🤍🤍🤍🤍🤍🤍🤍🤍🤍🤍🤍🤍🤍."
The Sweetest Thing actress, Selma Blair, wrote "❤️❤️. I love this so so much," as DWTS 31 winner, Charli D'Amelio left, "❤️❤️❤️" under Daniel's post. 
Britt's professional dancer posse was equally delighted.
"
Is this a soft launch??? 😍😍😍 love you both!!," asked Witney Carson while Emma Slater left the caption, "You guys 😍😍😍😍😍."
Koko Iwasaki playfully penned, "🤭 you already know how I feeeeeeeellllll," while Cheryl Burke left three red heart emojis.
Did you feel the romantic chemistry between the couple when they worked together on Dancing With the Stars? Sound off in the comments.
---