Selling Sunset's Christine Quinn Was 'Disinvited' To MTV Awards After Adam Divello Feud
Allegedly, the "decision didn't come from MTV..."
Ashley Hoover Baker June 6, 2022 5:01pm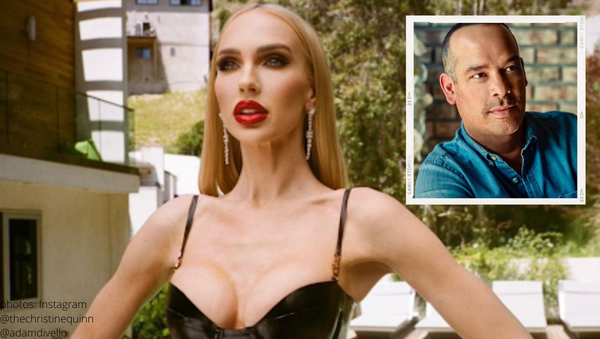 An insider is 'Coming Clean' as to why Christine Quinn was absent from the Unscripted MTV Movie & TV Awards.
Holding grudges:
A source exclusively dished to Page Six, the Selling Sunset star "was 'disinvited' from the MTV Movie & TV Awards: Unscripted at the last minute following a series of controversial interviews about producers" of Netflix's popular show.
"This decision didn't come from MTV. It came from Netflix/production," alleged the insider.
The MTV/Netflix connection:
In case you weren't around during early aughts – or if it is a blur for you (I can relate!) – the producer of Netflix's Selling Sunset, Adam DiVello, also produced MTV's Laguna Beach and The Hills, redefining reality tv.
"My guess is that they knew in advance that 'Selling Sunset' was going to win, hence why Adam [DiVello] was in attendance, and it made it less sticky of a situation to not have Christine present."
A separate source disputed the source's claim noting, "Netflix managed the ticket allotment, not Adam, and Christine was never part of that allotment."
ICYMI:
Christine hasn't held back in revealing her experience with the A-List producer.
"We have to look at what Adam DiVello has done as a whole, as a human being, as the person that he is," Christine confessed on the Call Her Daddy podcast.
"There's been complaints filed against him. Multiple complaints … and it's been sick."
Citing a specific instance, the former Oppenheim Group realtor admitted Adam "actually told me to go fall down the stairs and kill myself at one point."
"He was threatening me and yelling at me. There were other people around, witnesses to this."
"He basically berated me for being too honest and I said, 'This is my real life and this didn't happen and you know this,' to which then he was screaming and yelling at me."
That's not all…
Christine further claimed Adam has also been accused of "sexual misconduct."
That wasn't the first complaint I filed against him. There was another complaint to where he, to this day, cannot set foot on set with any of the women in the office because of misconduct," she alleged.
Another of Christine's claims entails production bullying the cast into saying certain lines in order to create drama.
"It is a male-dominated industry in the production field to which they manipulate women. They harass them. They just mentally torture and intimidate them."
"They'll say, 'If you say this word, if you say this sentence, we'll let you leave.' And so after three hours … it comes to a point where we're just like, 'Fine, I'll say that, I don't care.' So it's the intimation tactics."
Do you believe that Adam DiVello played a role in Christine not attending the award ceremony? Drop your opinion off in the comments.
---