Here's What We Know About The Brawl At The VPR Season 11 Finale So Far
Staff September 2, 2023 8:19am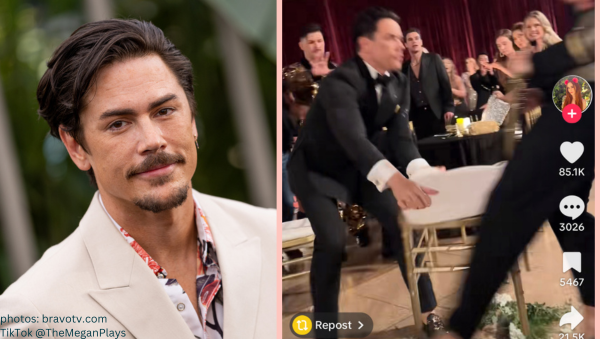 Let's discuss the brawl at the season 11 Vanderpump Rules finale party …
TikTok user @TheMeganPlays had boots on the ground for the event that doubled as a party for Kyle Chan [the jeweler who created Katie Maloney and Brittany Cartwright's engagement rings and one of Tom Sandoval's only allies] and shared a video of a mystery party-goer getting physical with the 'worm with a mustache.'
What we saw:
The magician-clad mystery man ran away from the area Sandoval occupied. He propelled a drink towards Ariana Madix's ex and ran and grabbed a chair.
It didn't take security (or Sandoval) long to intervene.
Tom took control of the chair from the instigator while aggressively chewing gum while security removed the troublemaker from the event.
Brock Davies, who donned a gold lame suit, held his hand up to the fight Eleven-style while Kristen Doute protected her cocktail.
Cast commentary:
Returning to the cast as an ally to Tom Sandoval post-Scandoval, Billie Lee took to her Instagram story to share a video she received from "somebody."
"The guy was off from the start."
Referring to the unknown man [it's NOT James Kennedy or Logan Cochran as the commenters assumed] the former SUR hostess continued, "He knew way too much information about me."
Billie Lee is the only cast member who has commented on the melee thus far.
The VanderVerse responds:
They're fighting in lowercase

There was I thinking it was a matador convention. 😂😂😂

Is it even fighting if everyone is wearing loafers?
Probably all set up by Sandoval so he can look like a hero
Tom trying to look like he did something
I will stick to watching river dancing. Ballet is too quiet
I thought this was the start to a musical
I'm pretty sure I saw Kristen in the back and her smiling when the wine got thrown at Sandoval 😂😂😂 same sis

Why are the male dancers from the Las Vegas dance capades there???? 😂😂😂

Yeah that looks set up to have Tom save the night😂😂😂 I'm so done with this bullshit of a reality show😂🤬🤡🤡🤡🤡
Do you think the fight looked staged? Drop your opinion below.
---