Former VPR Star Brittany Cartwright Dishes Why She Didn't Attend Stassi Schroeder's Wedding
Find out what Brittany's "actual reasons" were.
Ashley Hoover Baker June 14, 2022 1:48pm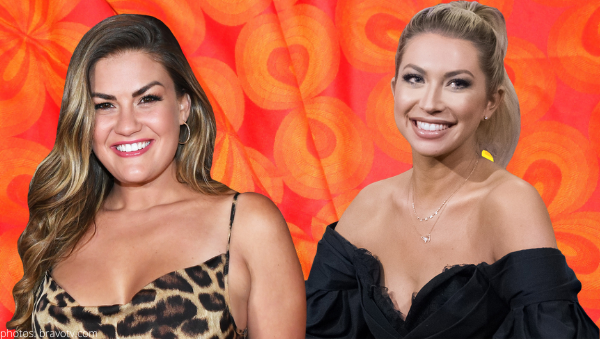 Frenemies forever?
Vanderpump Rules alum, Brittany Cartwright dished on what really went down between her and one of her "best friends," Stassi Schroeder.
In case you missed it, Brittany and her husband, Jax Taylor, were absent from Stassi and Beau Clark's Italian wedding, which was the catalyst for the friends' falling out.
The deets:
In an appearance on the Betches Moms podcast, Brittany explained she and Jax had "actual reasons" for not attending the destination wedding though she "really, really, really did want to be there" and "tried everything" to make it.
I "would never in a million years do something like that on purpose," insisted the former SURver.
The reason:
According to Brittany, her son's "passport didn't come in. My mom had a death in the family" resulting in her family's last-minute change of plans.
Unlike her husband, Brittany was able to admit where she made an error in judgment.
"I know, like, having to wait 'til the last minute and not being able to be there for someone who I really do think of as one of my best friends, like, I feel terrible about, and I'm, like, truly sorry," elaborated Brittany as she held back tears.
"There's some rifts going on right now. … With me and Stassi, there's some things going on, which I hate. I love her to pieces. And I wish we could figure this out."
Stassi's side:
After Stassi and Beau's Rome wedding, the two-time New York Times best-selling author detailed her side of the story on her and Beau's Patreon-only podcast, The Good, the Bad, and the Baby.
Brittany and Jax "RSVP'd 'yes.' [And] whenever we were around them, they're like, 'We're coming.' Then it kept happening." **Allegedly 'it' is referring to screenshots proving Jax had no plans to attend the European ceremony.** 
Stassi made it clear that "Good friends don't do that."
"They don't talk sh*t about your wedding behind your back or pretend that they're coming and give a list of reasons why they're not coming to other people."
"Friends don't do that to each other."
Brittany's lament:
Jax's wife persisted, "I feel terrible about and I'm truly sorry. And I hope that one day, we'll be able to talk about this and figure it all out."
Not only is Brittany without her friend (over Jax's big mouth…per usual), but this affects their children as well because Brit wants "our kids to grow up together." Stassi and Beau's daughter, Hartford, is just a few months younger than Cruz.
"I do love them. And I do want the best for them. She looked amazing at her wedding. I mean, they looked absolutely incredible."
"I know it would have been so fun to be there. And there's a lot more to it than what people know — or that I'm gonna even say — but at the end of the day, I just hope that they know, like, I did not wait to the last minute because I knew I was going to not be there for weeks. That was not the case. It was that I was literally trying to be there, up until the very last minute. So there was a lot of things that were going on. And I don't know, I just felt terrible about it altogether because that's just not my personality, I would never try to put my friend in that situation. And I don't know, I just hope that one day we can talk about it, figure it out and get past it over time. I'm just gonna give her time."
Deflection, à la the Kentucky Muffin:
Brittany low-key (high-key) threw shade at Stassi for allowing this saga to have been made public.
After explicating how "hard" it's been on Brittany not to "hear each other's sides," threw Stassi under the bus for allowing only "one side" of the story to be told.
"I would've never even talked about it and at, like, at all," Cartwright said. "It's just, it makes me sad. I'm trying not to cry. I really, really, really did want to be there and I tried everything in my power."
Did Brittany just make herself the victim? How very Jax of her…
Whose side are you on? Drop Team Brittany or Team Stassi in the comments.
---