Below Deck Fans React To Problematic Aspects Of The Show On Part One Of The Reunion
Fans were unhappy with Andy Cohen and the show's toxic masculinity.
Ashley Hoover Baker February 12, 2020 11:26am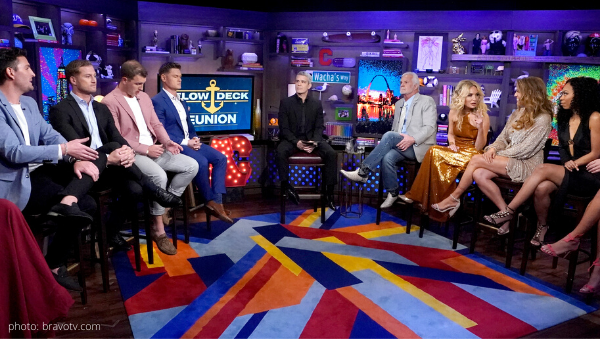 Below Deck fans react to problematic aspects of the show on part one of the season 7 reunion. Fans were unhappy with Andy Cohen and the show's toxic masculinity.
Fans took to Twitter to express their negative feelings towards the reunion host for his treatment of the boys' club. Many complained that Bravo's executive producer is not holding the men accountable for their actions during the most recent season of the popular Bravo show.
The reunion episode was one of the most highly anticipated to date, and fans assumed that Andy would get the men to show remorse for their sexist, misogynistic behaviors. Unfortunately, most of the reunion episode was mostly focused on the women rather than the men.
The treatment of Below Deck's women:
Many viewers observed Andy was easier on the men than he was with the women of Below Deck. For instance, Andy was harder on chief stew, Queen Kate Chastain, for getting the chef, Kevin Dobson, to make a cake that resembled a penis. Bravo's daddy even slammed the third stew, Courtney Skippon, for the way she treated Brian de Saint Pern. Ugh.
It's no secret Kate and Courtney were in the hot seat most of the reunion. Andy went as far as to show footage from the previous season showing Kate and second stew, Josiah Carter, blasting music outside Caroline Bedol's door, as she is seen crying in her room. Seeing this old footage left a bad taste in most fans' mouths, considering how the men acted on the season 7- which was supposed to be the topic of the reunion.
The men's behavior:
Instead, Andy should've spent that time playing the men's disturbing behavior from Season 7. From Ashton's infamous drunken van incident to the scene where Kevin kicked sand in Kate's eye, there was mucho material.
According to tvshowsace.com, "Below Deck fans wondered why the men on the show were so untouchable. They didn't understand why Andy was siding with them so much. Other fans claimed that the fame has gone to the male crew members' heads since Andy keeps supporting them. They don't like the special treatment that Andy has given them."
Do you think Andy was too easy on the Below Deck guys? Drop your opinion off in the comments!
---