Bachelor In Paradise's Becca Kufrin Defends Proposing To Thomas Jacobs
Becca clapped back at the claim she was "desperate."
Ashley Hoover Baker June 7, 2022 1:08pm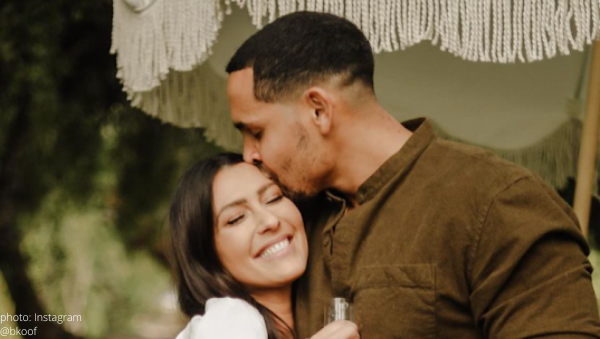 Alexa. Play Shake It Off by Taylor Swift.
Becca Kufrin remains unaffected after internet trolls called her "desperate" for proposing to her Bachelor In Paradise boyfriend, Thomas Jacobs.
Haters gonna hate:
After the most dramatic plot twist in Bachelor Nation history, Becca shared her post-proposal experiences on the Bachelor Happy Hour podcast.
Although many people chose to congratulate the happy couple, not everyone shared well wishes with the pair.
"People are like, 'She's desperate.' 'I would never allow a woman to propose to the man.' 'I would never do this.'"
Becca continued to disrupt the patriarchy by questioning our social norms around marriage.
"It's like, cool, that's you. But why does it, as a female, make me desperate to want to [propose] to somebody? If Thomas in a week were to do the exact same thing, no one says he's desperate. It doesn't make sense to me. The logic's not there."
ICYMI:
The couple committed to tying the knot after Becca's epic "power move" and got on one knee to ask for Thomas's hand in marriage in late May of 2022.
Thomas took to Instagram to celebrate this milestone.
"The ultimate UNO reverse card / power move. You keeping me on my toes for a lifetime has a great ring to it. Cheers to forever Boops."
View this post on Instagram
Do you think society will be more open to non-traditional journeys- like Becca and Thomas's- moving forward? Share your thoughts in the comment section.
---