Becca Kufrin Announces The Men Starring In 'The Bachelor Live On Stage' Tour
Host Becca K. promises an "interactive evening of laughter, games and of course, drama."
Ashley Hoover Baker February 2, 2022 9:58am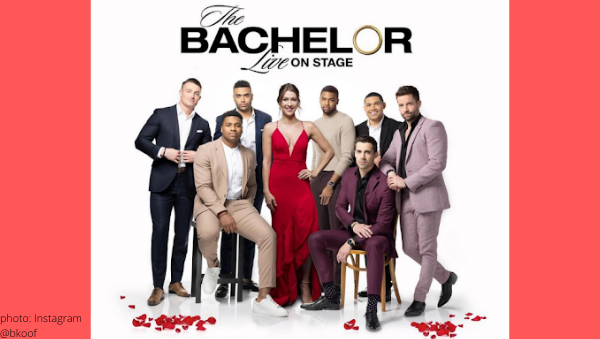 Attention Bachelor Nation!
Former Bachelorette/Bachelor In Paradise alumni Becca Kufrin took to her Instagram page to announce the men going on tour with her for 'The Bachelor Live On Stage' tour.
Dropping names:
Alongside a promotional photo, Becca captioned the announcement, "Drumroll please 🥁🥁🥁I'm so excited to announce THEE men of the @bachelorliveonstage tour sponsored by @kendrascott. thank me later Bachelor Nation."
"Very soon Rodney [Matthews], Andrew S [Spencer], Justin [Glaze], Connor B [Brennan], Ivan [Hall], Rick [Leach] & James [Bonsall] will be joining me each for one week on stage to experience the excitement that every limo entrance, group date and rose ceremony brings."
What to expect:
Becca continued, "It's a chance for you all to get up close and personal with us and the show for an interactive evening of laughter, games and of course, drama."
"They'll be my right-hand men in providing a night you won't forget – full of fun, flirting and true immersion into a season of The Bachelor."
In a voiceover from the tour's teaser, one of the Bachelors details, "Our audience is gonna get a unique chance to feel what it's like to actually be a part of Bachelor Nation for a night."
"All of your favorite parts. The laughs, the tears, rose ceremonies, games, dates."
Another cast member added, "Might have a sing-along, might be some drinks flowing."
Sign. Me. Up!
When is the tour?
The tour kicks off March 16, 2022, and will visit 41 cities to present an interactive show, which lets audience members compete in an on-stage version of ABC's iconic dating show, per reports from People.
Stay tuned for a list of cities at BachelorLiveOnStage.com where you can also purchase tickets and learn more about the show.

Want to stay up-to-date on all things Bachelor Nation?
Check out the Get'n Cozy With Erin Hill podcast for EXCLUSIVE INTERVIEWS and so much more!
Which of the guys cast in 'The Bachelor Live On Stage' would you be most excited to see? Drop names in the comments.
---