Vanderpump Rules' Tom Sandoval And Ariana Madix Sued Over 'Fancy AF Cocktails' Book
"We will vigorously defend ourselves against these baseless claims."
Ashley Hoover Baker December 18, 2020 11:24am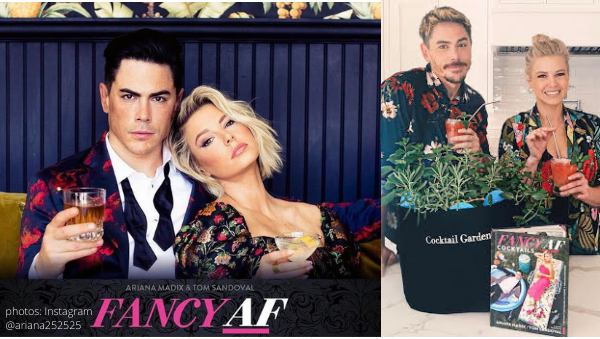 'It's not about the pasta,' but it IS about Tom Sandoval and Ariana Madix's Fancy AF Cocktails: Drink Recipes from a Couple of Professional Drinkers book.
The Vanderpump Rules stars have found themselves in a lawsuit by the book's original co-writer, Alison Baker, regarding contract disputes. The couple has spoken out regarding the claim.
Tom and Ariana's statement:
The number one guy in the group (Sorry- I couldn't resist throwing shade at the recently fired Jax Taylor) and his girlfriend provided a statement to E! News. "The allegations presented are false and frivolous. We will vigorously defend ourselves against these baseless claims."
The accusations against them:
According to court documents obtained by Us Weekly, "Sandoval, 37, and Madix, 35, breached their contract. Baker claims that she struck a deal with Madix to help create a book of cocktail recipes after being introduced through a mutual friend in February 2016."
"One month later, the documents state, the women agreed to an initial fee of $3,000 and 45 percent of the total advance paid by any publisher who ultimately published the book based on the book concept."
Fast forward one year:
If you're an avid VPR viewer, you may recall that Ariana had originally planned to pen the cocktail book on her own. Tom didn't get involved in the literary mix until the following season.
"Baker claims that Sandoval later 'forced himself' into the deal the following year, leaving her with no choice but to rework her original contract with Madix so that all parties agreed to 'share any revenue from this separate endeavor in equal thirds.' However, the Bravo personalities were not 'prepared to contribute the level of work necessary to complete the task of successfully writing and self-publishing a book' and revised the contract yet again.
Can we take a second to revel in the quote that the couple was "not prepared to contribute the level of work…."?!?!
Dead.
The book:
The former SUR bartenders went on to publish Fancy AF Cocktails in 2019- without Alison Baker.
According to the original co-author, Fancy AF breached her first contract with Ariana as the book "incorporates many of the proprietary rights" of the original concept she worked on.
US Magazine reported, "In her petition, Baker claims that she is entitled to damages and attorney's fees and that the creation of Fancy AF Cocktails was 'willful, malicious, and fraudulent.'"
Tom and Ariana recently celebrated the one year anniversary of Fancy AF Cocktails' release and hosted virtual parties centered around cocktails from the book.
Were you disappointed that Bravo didn't show more footage of the couple creating, publishing, and promoting their book? Sound off in the comments!
---