Vanderpump Rules' Scheana Shay Details How Lala Kent Has Been A Bad Friend
Lala disappointed Sheshu when she needed her the most.
Ashley Hoover Baker September 26, 2020 12:11pm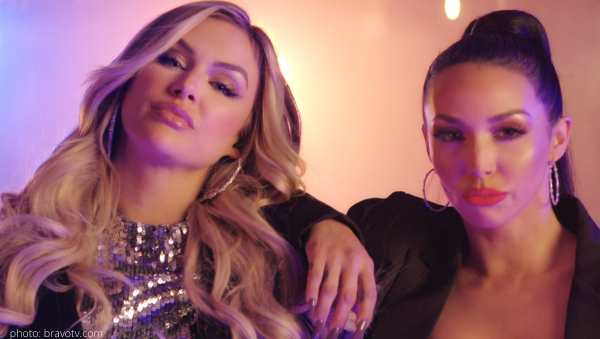 Like A Boss?!?! Vanderpump Rules star Lala Kent should try the lyrics, 'Like A B!tch' on for size.
VPR's OG, Scheana Shay, and her boyfriend, Brock Davies, took to her "Scheananigans With Scheana Shay" podcast to answer fan questions. One question popped up more than any other…
Why weren't Sheshu and Brock at Lala's gender reveal party?
The Good as Gold singer attacked the awkward question by admitting, "We weren't invited" to her listeners. Beefcake Brock jumped in to help his girlfriend with this sticky subject.
"This is the thing I like about COVID — you get to identify who you want to hang out with and who you don't want to hang out with," shared the F45 World inspiration Male Trainer. "There's a priority list. That's the best thing about pandemic, there's a priority list. You go, 'OK, here's our list of people who should come.' And we just didn't fall on that list."
In case you missed it:
Lala announced she and her Hollywood producer fiancé, Randall 'I'm Sorry Fofty' Emmett, were having their first baby in early September. Just days ago, Lala and Randall took to social media to share footage from their gender reveal party that they are expecting a baby girl.
Scheana detailed that Lala's action "states pretty clear where our friendship stands" moving forward adding the former friends "haven't really talked" lately.
Where did things go wrong in Scheana and Lala's friendship?
Don't think Lala not inviting Scheana to her party wasn't that big of a deal? I'm with you.
In fact, gender reveal parties suck, so Lala did Scheana a favor, imho.
This is where it gets really ugly.
Scheana opened up back in June after she suffered a miscarriage. The timing was especially tough for Scheana as her friend/former VPR co-star, Stassi Schroeder had just revealed her first pregnancy.
Scheana's mom reached out to her cast mates to give them the heads up that the couple's tragic news was about to become public. That's when Lala assured Scheana's mom that she would be there for her if Scheana needed anything.
Scheana needed Lala's support:
"Brock decides to go golfing and I'm, like, literally [having a] full panic attack. I'm like, I don't know anyone in Palm Springs and my mom was, like 'Well, why don't you call Lala?'"
"I was like, 'You know what? Actually, yeah, like, this could be a turning point in our friendship. She'll be here for me at my lowest of low and … we'll get back on track.' She apologized [to me] at the reunion. I thought at the time that was very genuine."
Scheana was not a priority for Lala:
Scheana called Lala literally begging for her to come to her house to be with her.
The former Mrs. Mike Shay continued, "It was frustrating because she hears the terror and panic in my voice. I'm literally, like, 'He's golfing!' … I was screaming at the top of my lungs. I was devastated. She was just like, 'I don't like that, I don't like that.' And I was like 'Yeah I don't like that either and I don't like being alone so can you please come over?' And she was just like, 'Well, um I'm going to dinner.'"
Though Lala invited Sheshu to her dinner engagement with Megan Fox and Machine Gun Kelly, Scheana declined. Considering she was mid-panic attack, the SURver wasn't in the right frame of mind to be social.
Scheana clarified to her podcast audience, "She literally said to my mom, 'If she needs anything at all, I will be there. I'm 5 minutes away in Palm Springs.'"
"I needed her and she wasn't there because she had dinner with celebrities. Let's be real."
Should Lala be more sensitive to Scheana's needs right now? Drop your opinions off in the comments!
---