VPR's Tom Sandoval And Raquel Leviss Issue Apologies For Their Affair
"My biggest regret is that I dishonored Ariana."
Ashley Hoover Baker March 8, 2023 9:11am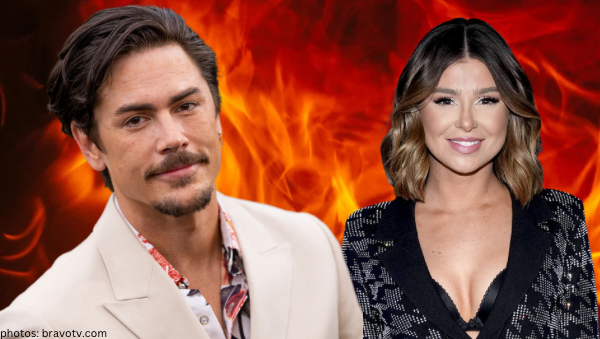 Hey Siri. Play 'Apologize' by One Republic
After a weekend full of scandal and deceit, Vanderpump Rules's Tom Sandoval and Raquel (Rachel) Leviss issued apologies for being skanky cheaters and doing Ariana Madix dirty AF.
The Bambi-eyed b!tch:
Raquel, who is being guided by an emergency PR crisis team, shared her regrets and her plan to move forward in a statement from originated on Entertainment Tonight's Instagram page before taking up space on her grid.
"I want to apologize for my actions and my choices, foremost to Ariana and to my friends and the fans so invested in our relationships."
Even though Raquel is being guided to play the victim, her reps are trying to portray that the former beauty queen contestant is beginning a journey of growth and accountability.
"There is no excuse. I am not a victim, and I must own my actions, and I deeply regret hurting Ariana."
The SURver continued, "I am reflecting on my choices, speaking to a counselor and I am learning things about myself such as my patterns of codependency and addiction to being and feeling loved."
"I have sought emotional validation through intimate connections that are not healthy without regard for my own well-being, sometimes negatively affecting others and often prioritizing the intimate connection over my friendships. I am taking steps to understand my behavior and make healthier choices."
Rachel is putting Raquel first (as always) …
"I don't expect sympathy, understanding or forgiveness. Right now I must focus on my own health and well-being, and as I strive to be a better person moving forward, I will prioritize my mental health and learn from my mistakes."
Scandoval:
"I want to first and foremost apologize to everyone I've hurt through this process," he began. "Most of all, I want to apologize to Ariana. I made mistakes, I was selfish, and made reckless decisions that hurt somebody I love. No one deserves to feel that pain so traumatically and publicly."
"I can only imagine how devastating this has been for Ariana and everyone around us. … My biggest regret is that I dishonored Ariana."
"My love for Ariana was stronger than any camera could ever have captured. Some of our best times together were never filmed. The same goes for some of our biggest struggles. I wish things happened in a different order and our relationship was not severely tarnished, and that it ended with the same respect for her that it began with. I owed Ariana better."
"I am beyond sad that it ended the way it did," his statement concluded. "The choices I made hurt so many people. I acted in a way that clashes with who and how I want to be. I will continue to reflect and work on myself. I have work to do. I always have, and I always will."
See the statements for yourself:
View this post on Instagram
View this post on Instagram
Do you think Sandoval and Raquel will make it back into the good graces of their friend group and/or Bravoholics? Drop your prediction in the comments.
---