Andy Cohen 'Will Miss' Both Stassi Schroeder And Kristen Doute On Vanderpump Rules
"I had a lot of fun with them on 'Watch What Happens Live."
Ashley Hoover Baker August 18, 2020 3:25pm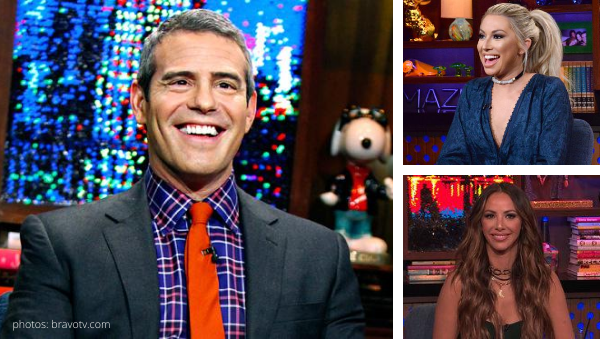 Bravo's programming guru, Andy Cohen, took time away from filming Watch What Happens Live from his Hamptons home to comment on his feelings of the former stars of Vanderpump Rules, Stassi Schroeder and Kristen Doute.
After Stassi and Kristen were fired, tvshowsace reported "Andy said that he 'absolutely' thought Bravo did the right thing."
Update:
Andy gave an update to US Weekly regarding his relationship status with the on-again friends.
Two months after the racist incident involving their former colleague, Faith Stowers, caused them to lose their jobs, Bravo's daddy he opened up more about the former SURvers. "I texted them right at the beginning, but I owe them a reach out."
Andy's feelings moving forward:
IF (yes, it's a big 'if') VPR returns for a 9th season, things are going to feel much different for the father of one. "I'm going to miss both of them a lot on the show," adding "I had a lot of fun with them on Watch What Happens Live."
VPR legacies:
Though 2/3 of the Witches of Weho are no longer employed with Bravo, Andy believes the show's success was thanks to this duo.
"However it ended, you cannot take away how important the two of them have been to that show."
I can personally attest to this. Just yesterday, I apologized to my husband for being 'season one Stassi,' and I use the term 'suck a d!ck' in Kristen's voice every time I get cut off in traffic. These gals may be gone from our screens, but not from our lexicons.
Want to stay in-the-loop?
Don't miss out on any more juicy reality tv news. Subscribe to the On This Day Entertainment podcast to say up to date on all things Bravo and beyond! Here is the most recent episode breaking down the restraining orders obtained by two of Stassi and Kristen's former cast mates against one another. Listen here!
Do you think Stassi and Kristen's other BFF, Katie Maloney-Schwartz, will thrive or barely survive on the show without her friends by her side? Comment THRIVE or BARELY SURVIVE in the comments with your reason why!
---