Tyler Cameron Thinks Tom Sandoval 'Needs To Do The Work' But Deserves To 'Find Love'
He "means well," but he "fucked up."
Staff September 13, 2023 1:08pm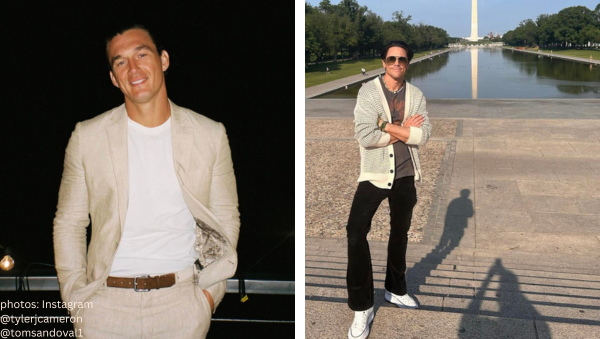 Bachelor Nation's Tyler Cameron gave some much needed advice to Vanderpump Rules villain,  Tom Sandoval.
"Stick to one girl," advised the season 15 runner up of The Bachelorette. "Work on yourself."
Tyler and Tom got to know each other on the set of Special Forces: World's Toughest Test. "I spent time with Tom. I enjoy Tom."
"I think Tom has a good heart."
After sharing "some sentimental moments," Tyler believes Sandoval would benefit from "being complete with himself and happy with himself. Then he can really be that somebody else."
Tom "means well," continued the reality tv star turned model before noting, he "fucked up."
"When you fuck up on this stage, everyone in the whole world is the judge."
Although he betrayed his life partner, Ariana Madix, with her 'close' friend, Rachel [formerly Raquel] Leviss, Tyler doesn't believe Tom "should not never be allowed to date somebody ever again."
"He should be able to find love and find the right person. But, he needs to do the work," added Tyler.
"Hopefully he has. Hopefully that could lead him to the right person."
ICYMI, Sandoval is five months sober.
Do you think season 11 of VPR will bring a new and improved version of Sandoval? Sound off below.
---