Tiger King's Carole Baskin Claims She Did Not Put Husband's Corpse In Meat Grinder
Such accusations resulted in Carole claiming she is the real victim of the Tiger King docu-series.
Ashley Hoover Baker April 1, 2020 9:17am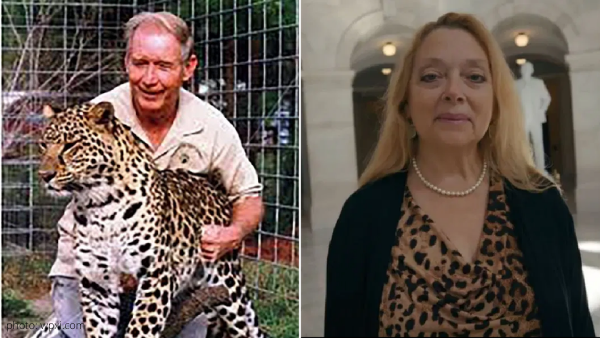 Hey all you cool cats and kittens!
Tiger King star, Carole Baskin, claims she did not put her husband Jack 'Don' Lewis' corpse in meat grinder and that she is the real victim of the Netflix docu-series.
The show's focus is GW Zoo's owner, Joe Exotic, and his crimes; however, Netflix's narrative included details of how Carole's then-husband (who was filthy rich, may I add) disappeared- and the case was never solved.
The most common theory:
Viewers have dedicated their time in quarantine to making memes and developing theories on what really happened to Don. Carole killing him and feeding him to the tigers is the most talked about theory, resulting in Carole claiming to be the real victim in this scenario as she's the target of ugly online rumors.
Three things in life are certain:
Death
Taxes
Carol baskin killed her husband pic.twitter.com/mEc74Q77tS

— Ashe Croley (@AsheCroley) March 26, 2020
I kept seeing "carol baskin killed her husband" and had no clue what it meant. I'm now 15 minutes into tiger king and after hearing her say "my imaginary friends were 2 white cats" I can confirm she did indeed kill her husband

— Gaptoothed Recluse (@lilmeat_18) March 28, 2020
Don't let 1,212 new cases of the coronavirus, during the last 24 hrs, in the state of Louisiana, distract you from the fact that Carol Baskin killed her husband.

— New Monya (@lnrobertson462) March 31, 2020
The clap back:
Carole's next victim current husband, Howard Baskin took to You Tube to point out how bad the accusations against his master wife are.
He explained, "This week Kim Kardashian asked her [Twitter] followers if they think Carole killed her husband. "We would welcome [Kardashian] visiting if she wanted to."
We would love for you to visit Big Cat Rescue once Covid-19 is over to meet Carole, tour our GFAS-accredited sanctuary for big cats, and learn about how you can help end abusive cub petting!

— Big Cat Rescue (@BigCatRescue) March 24, 2020
In case you missed it:
According to the New York Post, "Two months before disappearing in August 1997, Lewis sought a domestic violence injunction against Baskin. She has hinted that he may have had Alzheimer's disease. His van was found at an airport near the couple's home in Tampa — and Lewis was not heard from again."
"He just literally vanished into thin air," Hillsborough County's Sergeant Greg Thomas told Oxygen.com.
Joe Exotic, Carole's nemesis, even made a song, Here Kitty Kitty (that slaps, may I add) and music video featuring a Carole doppelganger feeding Don to her big cats. This is something you really do have to see for yourself.
Carole has concluded this theory as the "most ludicrous of all the lies," pointing out in a Big Cat Rescue blog that her tigers eat meat broken down into 1-inch cubes before being ground in her compact, tabletop meat grinder. "The idea that a human body could be put through it is idiotic," she noted.
What's next for Carole?
To Carole's chagrin, police are using the popularity of Tiger King to hopefully gain new information as to Don's disappearance. In case you'd like more information, here ya go!
Want more Tiger King in your life?
I recorded a bonus episode of the On This Day Entertainment podcast breaking down all things Tiger King with my 'murderino' friend, MJ. Bat-shit-crazy topics discussed include: The mullet sporting, gun toting, gay man with two straight husbands, getting an arm amputated after a tiger attack and going back to work 5 days later, expired Wal-Mart meat pizzas, alligator genocide, and of course the question on America's mind- "Did Carole Baskin kill her husband and feed him to her tigers?" In case you'd like to listen…
Do you think Carole will get charged for the murder of her late husband? Spill your tea in the comments!
---