Ex Southern Charm Star Thomas Ravenel Is A Baby Daddy For The Third Time
The disgraced politician said, "Heather [Moscoe] is a phenomenal mom and they're both doing well."
Ashley Hoover Baker July 13, 2020 2:27pm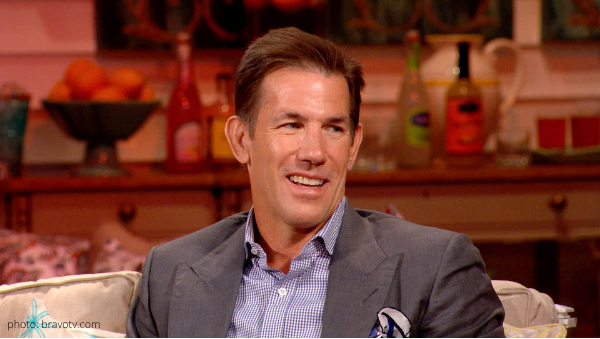 The third time may be the charm for the former star of Bravo's Southern Charm, Thomas Ravenel, as his ex-girlfriend, Heather Mascoe, gave birth to his third child.
The baby boy was born on June 29th; however, the disgraced politician waited until 7/13 to make an official statement. Thomas told the Daily Mail,  "We've named him Jonathan Jackson Ravenel and he was born by C-section. We are both very happy. Heather is a phenomenal mom and they're both doing well."
Johnathan was 7lbs 4oz and 20.25 inches long at birth.
Who is Heather Moscoe?
Thomas' second baby mama is a registered nurse that the former reality star dated briefly. He claims the exes are 'very happy' but just 'really good friends.'
Heather also has two children, a son, 12, and a daughter, 13, from a precious relationship with well-known Charleston restaurateur Leo Chiagkouris.
Would you like a shady aside?
Heather's ex, Leo, got wind of Heather's relationship with Thomas, a convicted rapist, and was NOT having it…
In August 2019, Leo hung a banner outside of Thomas' home. But it wasn't just any banner – this one was intended to further destroy Heather's then-boyfriend's already tainted reputation. The banner was reportedly hung after Leo learned the SC alumni had spent the night in the home where his kids were sleeping.
The sign featured a photo of Thomas with the text, "KEEP THIS GUY OUT OF YOUR HOUSE WHILE MINORS ARE SLEEPING." Leo also launched an online petition warning people about Ravenel and his criminal history.
Thomas' other children:
Thomas shares two kids with the controversial Bravolebrity, Kathryn Calhoun Dennis. The father of three admitted that explaining the arrival to his six-year-old daughter, Kensie and four-year-old son, Saint, 4 was not an easy task.
He explained. "It's kind of difficult to explain to them, you know, 'This is your half-brother – different mothers, same father.' They were a little confused. In the end I just told them, 'You'll understand when you're older!"'
"But they've Face Timed with the baby and they're very excited to meet him. They're getting ready to spend the week with their mother so we're hoping they'll meet him after that," as per Daily Mail's interview with Thomas.
See the cutie for yourself!
Want to stay up-to-date with all the latest happenings in reality tv and pop culture news?
I've got your back! Check out the On This Day Entertainment podcast so you don't miss any of the piping hot tea. Here is the most recent episode!
Do you think Thomas will be successful in remaining friendly with his baby mamas? Drop your opinions off in the comments!
---