VPR Star Scheana Marie Shay Claims To Embrace New Cast Members
This comes on the heels of assuring viewers and co-stars she isn't jealous of Dayna Kathan.
Ashley Hoover Baker February 14, 2020 3:08pm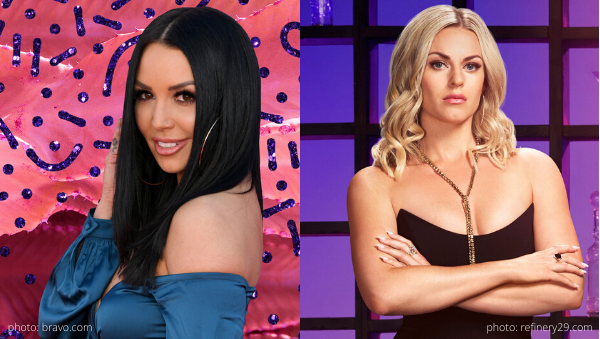 Vanderpump Rules' Scheana Marie Shay, claims to 'embrace' new cast members. This comes on the heels of assuring viewers and co-stars she isn't jealous of Dayna Kathan, over and over on the latest installment of VPR.
Scheana's claim:
The fact that Scheana 'Good As Gold' Shay needs to go on the record telling news outlets that she enjoys sharing the small screen with new faces is proof that Scheana doesn't enjoy sharing the small screen with new faces. That's what she attempted with Life & Style Magazine, at least.
"As a cast member, I love having new people to film with and despite what you see with Dayna [Kathan] — which again, changes after tonight — I always embrace having new people on the show because I have fun with them," Brock Davies' Valentine admitted at Blumhouse's Fantasy Island red carpet event. "It just brings a new flavor to the show and it gets a little stale at times."
The SURver continued, "For me, it's great to have new friends to film with, and I thought it was a lot of fun. But for the audience, I think that it was maybe too many people too soon. And they kind of pushed new storylines on the audience that they weren't ready for."
The internet is not buying this narrative that Scheana is selling:
A follower took to Instagram to comment, "I say this with love, grow the fuck up. How you are treating Dayna is beyond childish, petty and also just hilarious because it's so obvious how jealous you are. Come on girl.. you're better than all that!" Another added, "U r jealous of dayna come on we all see it."
"You're deathly jealous of Dayna! Can't believe you're treating her that way after they treated you the same exact way when you started. Really @scheana ?????? GROW UP!!! You're threatened by Dayna's brains and beauty. It only serves to show the WORLD who @scheana really is….and it AIN'T PRETTY!!! Thought you were smarter and classier than that but I THOUGHT WRONG!!!, exclaimed another follower on the 'gram. 
Scheana's changed her approach with Dayna:
The most recent episode ended with Scheana making peace with Dayna. Scheana took to Twitter to share her friendship status with Max Boyen's new squeeze.
😘😘😘 thank you! And it was obvi a much longer conversation but the only thing that matters is Dayna knows the truth and we are good friends! https://t.co/d4BpYYf0sn

— 🏳️‍🌈Scheana (@scheana) February 12, 2020
If you need more VPR in your life, I've got you. I recapped the season 8 premiere episode on the On This Day Entertainment podcast and explained why I think Scheana brings so much to the table, especially considering the dynamic of the senior and freshman cast members this season. In case you'd like to listen… 
Do you see Scheana and Dayna developing a close friendship? Drop your prediction off in the comments!
---