Monique Samuels On Her RHOP Future: 'I'm Over It.'
"It was a crazy ride. It's not easy doing reality TV."
Ashley Hoover Baker December 28, 2020 9:09am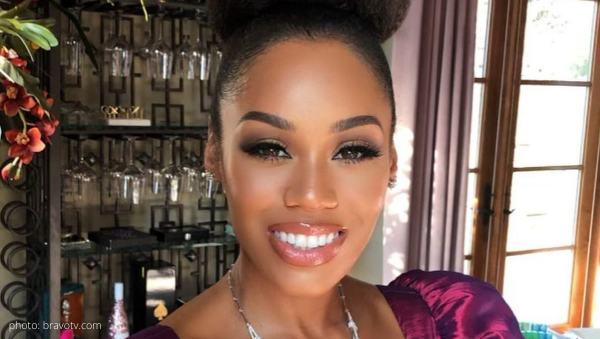 Another Real Housewife bites the dust- this one at her own will.
Real Housewives of Potomac's Monique Samuels took to Instagram live after the conclusion of the season 5 reunion to announce that she is "over it" and will not return for another season, despite being offered a contract.
After a year in the DMV's hot seat, Mo concluded "Enough is enough."
Mo's statement:
"It was a crazy ride. It's not easy doing reality TV, and to be quite honest, I'm over it," Samuels said. "I appreciate everything that people have done for me, everybody that's been Team Monique. I love y'all. I thank y'all, but when you cross certain lines there's no going back."
Family first:
"And for me, my family is that line." Monique elaborated. "The opinion of my family and my kids and what they think about anything that I do is more valuableto me than anybody's opinion, so I'm over it."
Breaking stereotypes:
"I wanted to represent real Black love and -you know- show people something outside of what the stereotype has been on TV," Mo told her followers.
"Unfortunately, this season, I played right into that stereotype."
Monique admitted to seeing two therapists. "I was working overtime to really check myself because that is the opposite of what I want to display on a TV show and in real life, most importantly. I'm always going to be a great example of a role model for my kids and you have to know when enough is enough."
Thankful, with a side of self promotion:
"I appreciate the opportunity being part of a network that is so amazing and having the platform to be able to speak to so many people every week. I'm so blessed and so grateful. It's been an amazing platform for Not For Lazy Moms and for my new essential oils line Mila Eve Essentials. I looked forward to showcasing that, but I gotta do what I gotta do."
Here are the highlights:
View this post on Instagram
The question on all of our minds:
No, T'Challa was not offered a contract, nor would return to RHOP without his human mommy.
Need more Bravo in your life?
Join Cici from Instagram's @cicilovesyou and Ashley from @onthisdayentertainment for a Bravo year-in-review on Monday, 12/28/20 at 11am PST. Can't make it at that time? No problem. The IG Live will be saved on @onthisdayentertainment's Instagram page or can be found on YouTube.
Do you think Monique is really finished with RHOP, or will she come crawling back? Drop your opinion off in the comments!
---