RHOP's Gizelle Bryant Seen On A Date With Winter House's Jason Cameron
Was this Bravo crossover couple on your 2023 bingo card?
Ashley Hoover Baker January 8, 2023 6:07am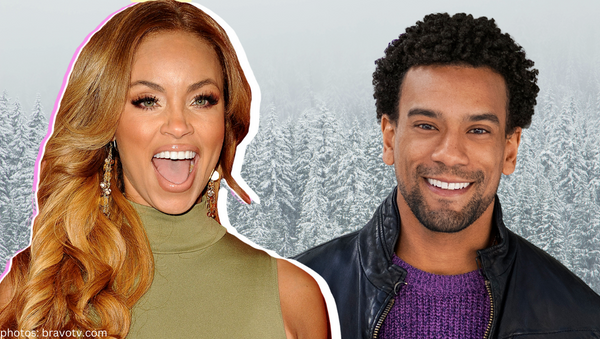 It's a new year and Real Housewives of Potomac's Gizelle Bryant is starting 2023 off right – by dating a man who doesn't live in her phone.
The RHOP beauty was seen having dinner with Winter House's Jason Cameron. Shout out to Instagram's @bravoandcocktails who posted a video of the Bravolebrities on what appears to be a dinner date.
#rhop meets #winterhouse ! Does this vid of Gizelle and Jason Cameron from Winter House look like they're on a date? pic.twitter.com/m2QEEBwIHr

— OnThisDayENT (@OnThisDayENT) January 8, 2023
Bravoholic reactions:
The Bravosphere was aghast seeing the crossover stars connecting.
Many were quick to ship the potential pair, while others thought they were self-producing. Here are some highlights from the comment section …
"Can we start a GoFundMe for the camera person?"
"STOP IT! Gizelle's next storyline – what's the bet Robyn took that video"
"EXCUSE ME!!!!!!! I KNOW THATS RIGHT"
"Just my opinion but Gizelle didn't look very impressed? Was she on her phone 😬. I could be wrong 😑"
"I HAVE QUESTIONS!!"
"I can't see this. And why do bravolebs think they can't date outside of bravo!? Lots of fish out there"
"He always seems so desperate for a storyline and she seems so bored"
"Is this your bf or" – Robyn"
"LOVE TO SEE IT!!!"
"Sit down he is too young. Unless she just wants some fun then I'm all for it"
"She saw the attention Ashley and Luke got and wanted a piece"
"What? Will Gizzy finally have a storyline next season?!? 😂"
Was this Bravo crossover couple on your 2023 bingo card? Drop your opinion of this new potential pair in the comments.
---